Most people don't think of Kalamazoo, Michigan, when they think of music. I'd be willing to bet most people don't even think of Kalamazoo when they think of Audiotree.
The session-streaming giant of the indie music world has been creating live sessions at their Chicago studio for years. They partner with Chicago venues, Lincoln Hall and Schubas Tavern, on a number of shows and events, and all of their "Far Out" sessions have been filmed in and around the Windy City. But it is the Western Michigan city of Kalamazoo that lays host to the annual festival put on by the folks at Audiotree. Despite the unexpected heatwave that struck the Midwest on the first official weekend of fall (temperatures on both days peaked at 94°), the festival was a great escape for music lovers of all kinds.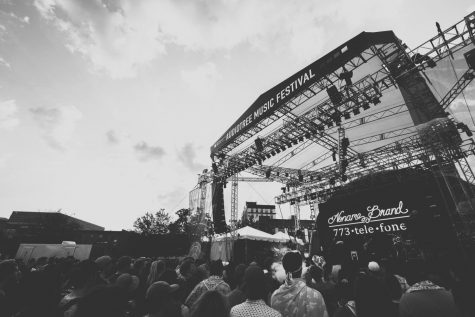 Chicagoans still made their presence known across the two days as major forces of the stage. Noname and her backing band led the crowd through an early evening set with an effortless stage presence on Friday.
"Listen to these dramatic-ass strings and think about a moment in your life that meant something to you … I'm just f***ing with ya'll," said to the crowd as she laughed and jumped into "Telefone" album opener "Yesterday" to close the set.
In a different vein musically, Twin Peaks was supremely impressive. The current live set being delivered by the band adequately reflects the change of tone seen in their recently released singles: this is a more refined, professional sounding and more realized band. And that's not to say they've sacrificed their live intensity, because one would be hard pressed to find a band having as much fun onstage as these guys.
They seem to have finally found the balance between energy and expertise, and it's exciting to see where it could take them next in their careers. Add the wonderfully ambient tunes of indie rockers Campdogzz to the set Saturday, and audiences have a sampling of the diverse Chicago music scene on display in Western Michigan.
The Aussie psych rockers King Gizzard and the Lizard Wizard were fresh off of their most recent release, a collaboration with Mild High Club, and were nothing short of jaw-dropping in Saturday's festival-closing set. Their live show is mind-altering; it can make one feel as though their world is simultaneously exploding and imploding on itself, an experience equal parts disorienting and intoxicating. As a foil to the international acclaim of such a group, the festival also had plenty of artists that Audiotree promoted vigorously in hopes they one day see the same success. The folks at Audiotree can't seem to get enough of Liz Cooper and the Stampede, having put out two different sessions with the band within the last year alone; any Audiotree patrons that caught either their afternoon set Saturday or the after-party set that night was likely to find themselves hooked as well.
With a phenomenal set of power, emotion and a tasteful amount of dad-jokes, Pinegrove was a personal highlight of the festival. Lead singer Evan Stephens Hall put together a tour de force as he passionately screamed songs from 2016's album, "Cardinal," and the band's back catalog Saturday.
I got a chance to experience the jovial character of Evan backstage when I congratulated him on the performance. Seeming even more excited to talk than me, he was quick to compliment my black shirt that read "SAD SONGS" across the front.
"I saw you really getting into the set from the crowd and loved it," Hall said. "And then I noticed your shirt and thought, 'Hey, I write sad songs!'" The atmosphere of the whole festival made everyone comfortable to relish in moments like this.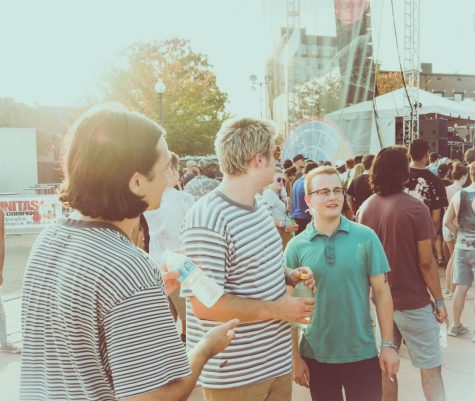 Audiotree's team deserves a showering of praise for their job the whole weekend. With a reputation for creating the best products possible for talented artists, they certainly lived up to it. Every band was given impeccable audio and video content via their livestreamed set (a wonderful opportunity to catch some of the artists we had to miss, like the Grand Rapids trio Hi-ker).
Artists said how seamlessly their stage transitions were between sets, thanks to a well-designed backstage area for bands coming on and off, all weekend.
Even though it was hard to predict the early-fall heatwave, the Audiotree people handled it like true pros. Shooting water guns on the crowd, passing out water bottles and giving band members individual stage fans all added up to reflect a team that knows what they're doing and very honestly strove to serve the people at their event.
That idea can be expounded on to understand why the festival was such a good time for all involved: Audiotree cares. They did a fantastic job of creating an environment in which the music community could relax and enjoy themselves. Droves of musicians showed up to hang out and see their friends perform, chiefly among them being Chicago groups, as members of Whitney, Post Animal and NE-HI all made the short trip to enjoy the intimate festival setting. The official Audiotree after-party at Kalamazoo's Old Dog Tavern was a beautiful sight, as a conglomeration of artists, media members, Audiotree team members and casual festival goers enjoyed relaxing with friends and acquaintances all invested in the music community.
My hat goes off to the folks at Audiotree; the industry needs more institutions like them who are motivated by pure love for good music.
Related
SaveSave
SaveSave