M83 Wows in Milwaukee debut
The French electronic band M83 draws their name from a galaxy approximately 15 million light years away from earth, a rather fitting name as their live show is an experience best summed up in one word: otherworldly.  For their show Wednesday night in Milwaukee, The Pabst Theater was briefly transported to that galaxy light years away from our own.
Appearing for the first time in the Cream City, Anthony Gonzalez led M83 through a setlist touching on all parts of their 15-year career. Before they took the stage, though, English singer/producer Shura brought her own unique brand of synth-pop. Coming out as just a three-piece ensemble, Shura proved that a synth, guitar, and electric drum is sometimes all you need to fill a room. More drum-driven than their touring partner, the music could best be described as Tove Lo-style vocals over the drum-heavy thrash-pop sound of Animal Collective. She was as good an opener as any, but once she finished the crowd was ready. Milwaukee had waited a long time for M83 – the wait was over.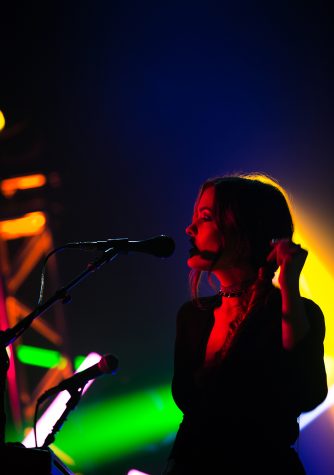 M83 is the brainchild of French-born producer Anthony Gonzalez. When it comes to studio recordings, he's had full creative control ever since his original partner Nicolas Fromageau left in 2005. For the live show, though, Gonzalez surrounds himself with an incredible crop of talent that helps to lift his sounds to their astral heights. His touring band, comprised of Jordan Lawlor (guitar, bass, keyboards, percussion), Loic Maurin (drums), Joe Berry (saxophone, keyboards, ewi), and newly-added female accompaniment Kaela Sinclair (vox, keyboards) is a group that seems as tight and well-rehearsed as any band I've ever seen – a necessary trait with the incredible complexity Gonzalez's material can have. To describe the feeling of hearing it, try to imagine what you think a space orchestra may feel like. The stage lights accompanying the show play as much a role as any musician. It's more than cool colors and illumination; the lights are expansive, open, and at times alien. During one song about 30 minutes into the set, the lights morph into a night sky. Shooting stars dart around the room, a voice seems to whisper from above, and the audience is fully transported to whatever dimension in space Gonzalez's music hails from. Breathtaking moments like this were a common occurrence as the night went on.
In a show as great start-to-finish as this it can be difficult to pick highlights, but the clear stand-outs were fan-favorites "Wait" and "Midnight City", both off 2011's Grammy-nominated Hurry Up, We're Dreaming. The spine-tingling "Wait" is M83 at their best. Known to many for its prominent inclusion in the 2014 teen drama "The Fault in Our Stars," the song captures the distance and pain we feel in life with an open sound and a few carefully chosen words (the refrain of "No time" is among the most perfectly crafted and poignantly delivered lines I have ever heard). Similarly, "Midnight City" is the song that put M83 on the mainstream map. This was no fame-focused pop song; rather, the elevation of this song to such heights was one of those rare moments where the mainstream music consumers gave much deserved attention to a great song by a great artist. Even five years on, the band's energy during their major hit was as palpable as that of the crowd. Seeing "Midnight City" live is a moment everyone should experience at some point in their lives.
The songs of M83 wash over you like a wave. They build out of something small – a ripple, so to speak, in the waters of sound. Slowly, patiently, gracefully, they become something much greater. Suddenly you find yourself overtaken by the enormity of what the sound has become and it leaves you breathless. When it goes, you want the wave to come back again and again and again. You crave that sonic wave to wash over you one more time. The music has a cleansing feeling and leaving that show you can't help but feel refreshed and renewed in some way.
It was a night to remember. It was a night no one wanted to end. The encore, while it's come to be an expectation at most concerts these days, felt truly deserved. They played their hits, they walked off the stage, and the crowd cheered as loud as they could until the band returned to keep the magic going a little bit longer. If their reception at The Pabst was any indication, you can count on M83 returning to Milwaukee in the future. When that day comes, they'll be welcomed with open arms.
Leave a Comment