Style Sunday: Thigh-high boots
Thigh-high boots are pretty much everywhere. In November, model Gigi Hadid wore a pair in Paris. If you remember #BootBae this February, she was wearing fiery red suede thigh-high boots when she blocked a runway model from talking to her partner with her boot. Or more recently, blogger Jenna from everlasting pure wore burgundy velvet thigh-highs in a style post. These boots are sold at retailers like H&M, Boohoo and Akira, to name a few.
Boots seem to be getting higher and higher these days. A few years ago booties were in, then knee high boots gained popularity, now its thigh-high boots and, soon, maybe even waist-high boots. Rihanna, also known as
@badgalriri on Instagram, rocked orange waist-high Vetements x Manolo Blahnik boots last year during her world tour. Waist-high boots aren't new to the fashionable musician, as she also wore waist-high denim boots that same year from her collaboration with designer Manolo Blahnik. Rihanna can pretty much wear anything, but other celebrities are testing out the trend, too. It will only be a matter of time before fast fashion retailers try to make the trend available to the public.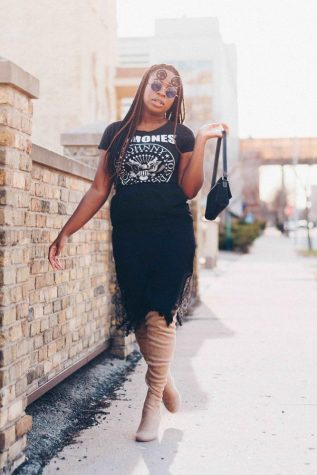 When styled correctly, thigh-high boots can give the illusion of long legs. Most fashionistas opt for the tried-and-true rule of leaving a panel of exposed skin between the boots and shorts, skirt or dress. It leaves a bit of breathing room between the boots and the outfit. At times, thigh-high boots can be overwhelming and can make a person look like they are being swallowed up. The exposed skin helps with that by adding the illusion of length.
Another common way to style thigh-high boots is to completely disregard the breathing room and let layers overlap. Although it contradicts the previous styling rule, it also can work if done well. Letting layers overlap can make an outfit look more conservative. Even though thigh high boots are usually not correlated with seriousness, letting the hem of a dress or skirt cover the top of the boots can give off that feeling. It also provides warmth in colder temperatures.
It is not unusual to see thigh-high boots paired with pants, usually jeans. Anyone from style bloggers to college students can use this method. Out of the three main styling options, this is the simplest way to style thigh-highs.
Click here to see more images from the photo shoot. 
Leave a Comment