Falcus' Friendly Fashion: First-year runs his own brand, New Retro Clothing
People create art for others to appreciate it, so when Joey Falcus saw someone wearing his designs in school, he was overcome with emotion.
"I would come into school and see some random person in theater wearing the Banana Boy sweatshirt and it was like, 'Oh my God,'" Falcus said. "I designed that, that's something that I made and they spent money on it and wore it to school, that was kind of crazy."
Joey Falcus, a first-year in the College of Arts & Sciences, runs his own clothing brand with merchandise featuring inside jokes from his friends.
New Retro Clothing was Falcus' quarantine project, occupying him while the world learned how to navigate the pandemic and he couldn't share his artistic passions outside the house. 
"I've always been the kind of person who needs some kind of creative outlet I'm constantly going back to," Falcus said.  
His friends encouraged him to make the clothing, inspiring him with stories and jokes. There's a collection of clothes that have the words "Banana Boy" on them, a term Falcus said came from a theater show. He also sells tops with a slice of pizza on them, titled the "Pizza Thursday" shirts.
"Some of my favorite pieces are based on [Dungeons & Dragons] campaigns I was in with friends, and it was fun because I got to incorporate all these different inside jokes. We would always wear them to the sessions, and it was a lot of fun," Falcus said. 
Aside from his friends' purchases, Falcus also received some online orders through his website. Falcus worked with TeeSpring to create the clothes, a platform that helps creators sell their merchandise while splitting the profits.  
"I'll design the shirts in Photoshop and then upload them to TeeSpring, and they'll get them printed and ship them, and take care of all that on their back end," Falcus said. "I just wanted to make my own website to present it a little bit easier." 
Falcus' designs and shirts were so successful that his teachers even took notice.
"People in theater started wearing the designs, and my director actually gave me the job of making the official merch for the shows," Falcus said. 
Despite all Falcus has achieved he said he had to step away for a while. 
"I tend to obsess about a current creative work, so I went in very hard, and I was turning out multiple designs a week. It was a lot of fun, but it was so much and I got burnt out on it," Falcus said.
But with college starting a new chapter in his life, Falcus said he might return to the brand, updating every so often with new designs.  
Falcus' main motivation for the clothing brand was his relationships with others and how they influenced his life.  
"I think there's a lot to be said for the idea of making creative work out of things that are personal between you and the people you love in your life," Falcus said. "I always love to make pieces that show off all those connections between us. Fueling your creative passion with love for yourself and others is how you're going to see the best results from it."
Falcus' friends and family supported him through the entire process and were there to celebrate when he succeeded. A shining moment for Falcus was when he said he organized a photoshoot for his clothes and friends modeled the clothes.  
"That was one of the coolest days of my whole life. Seeing so much real stuff come out of these clothing designs that I made and all these people already had, it's such a gratifying feeling," Falcus said.
Another of Falcus' proudest moments was the creation of his pride collection. Featuring rainbow stripes along the shirts, the clothes celebrated loving yourself and being who you are. 
"[The Pride collection] was my first real project besides the inside joke stuff, like branching out into regular designs," Falcus said. "It's something very important to me and June rolled around and it just felt right." 
While Falcus had taken a break from New Retro Clothing, he might be making a return.
"I would like to maybe come back to doing a little bit more with it, but I would never go as hard as I used to," Falcus said. "I've been getting better at actual art as opposed to graphic design, so I could maybe incorporate some of that into there as well."
Stay updated by following @newretroclothing on Instagram.
This story was written by Izzy Fonfara Drewel. She can be reached at [email protected].
Leave a Comment
About the Contributor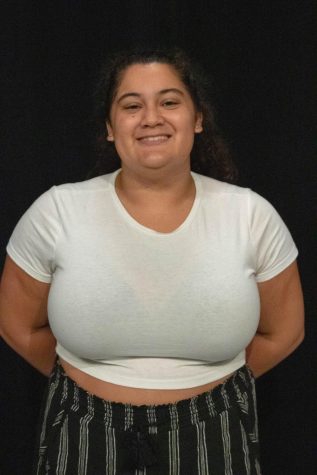 Izzy Fonfara Drewel, Executive Arts & Entertainment Editor
Izzy is the Executive Arts & Entertainment Editor at the Wire. She is a sophomore from Papillion, NE studying journalism and minoring in music and...