Denim has been a closet staple for decades. Though originally used as working clothes, the versatile material now comes in many shapes and forms, from bell-bottoms in the '70s to distressed grunge jeans in the '90s. No matter what decade it is, denim will always have a place in society.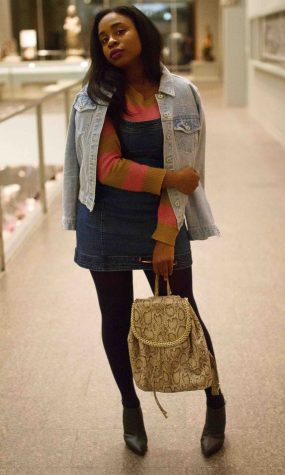 After going somewhere warm for spring break, the bitter truth of the Midwest and its winters really settles in. Dressing appropriately for the cold weather is a big factor in choosing an outfit, although there is the occasional wearer of shorts in 40 degree weather.
Dismissing that one person, most people aim to be warm and comfortable. Wearing dresses and skirts, let alone denim ones, during the winter isn't something most would consider to be warm or comfortable but there is always a way to make it work.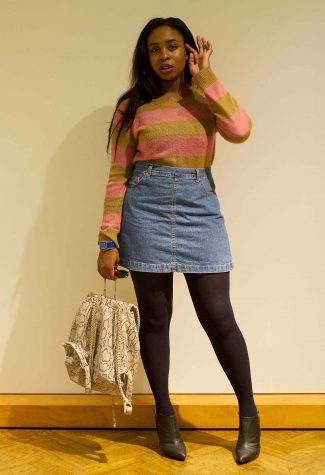 In the first look, I am wearing a dark wash denim overall dress and an acid wash jean jacket. When wearing denim on denim, it is best to mix washes. Mixing denim washes is not a definite rule, but it does gives good contrast in color and helps avoid looking like a Canadian Tuxedo.
The two main pieces of this outfit are pretty much polar opposites color-wise. This strong distinction in tone makes it easy to differentiate the jacket from the dress. If they were around the same color, it would most likely look like one blob of denim overload.
The next look is a simpler combo — a sweater and skirt. Paired with tights this ensemble is perfect, even on a super chilly day. Sometimes a minimalistic approach to outfits is the best way to go.