Style Sunday: Model off duty preview
The whole idea of "student off duty" comes from the term, "model off duty." Model off duty is all about the way a model is dressed when she or he is off the clock.
During the week, I achieve a laid-back academic look by wearing a knit mock neck, button-up skirt and an oversize men's shirt. The lenses, button-up skirt and knit top combined together really give off an bookworm feeling.
The outfit is both comfortable and practical, which makes it perfect for a day spent in classes. The lack of flashiness and flamboyant colors imply a level of seriousness.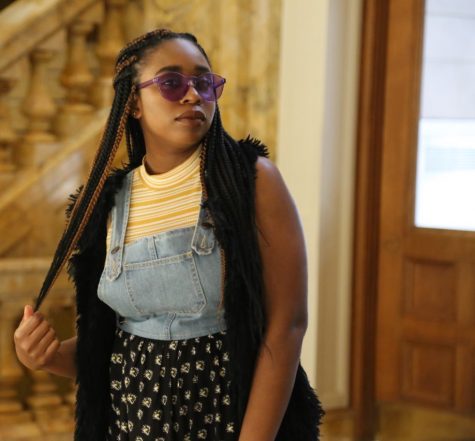 When class isn't in session, it's the perfect time to try more eccentric looks. I opt for a more eclectic ensemble by wearing a mustard yellow mock neck top, a faux fur vest and an overall dress.
The only accessory I need is a pair of colored rimless sunglasses.There are a few different patterns and textures in this one outfit, from the faux fur vest, the thin stripes on the mock neck, the daisies on the overall dress to the sequin on the heels.
Clearly there is a lot going on, but each part doesn't overshadow the other. All the pieces work together in an interesting way.
Check out the full "off duty" fashion spread in the Marquette Journal.
Leave a Comment