Style Sunday: All hail mock necks
This is the first, but definitely not the last, time mock turtlenecks will make an appearance on Style Sunday. They are a godsend for the fashionably challenged and the fashionably able.
Mock necks are actually not on the current trends radar this season, but they will never truly go out of style (unless fashion decides to stop borrowing ideas from different time periods, which is, for the most part, impossible). Style trends are essentially recycled. For example, in a particular early '90s paparazzi shot, supermodel Kate Moss is seen rocking a mock neck top.
The mock neck is fairly simple to style. It's essentially a cousin to the turtleneck and crewneck. The elevated neckline removes the need to accessorize, meaning less styling woes to overcome.
There is something about the mock neck that makes an outfit look well-thought-out, even if it isn't. It also doesn't hurt that this type of collar comes in many forms, ranging from dresses to crop tops. This gives anyone the chance to try out the look, not matter what her style personality is.
The mock neck dress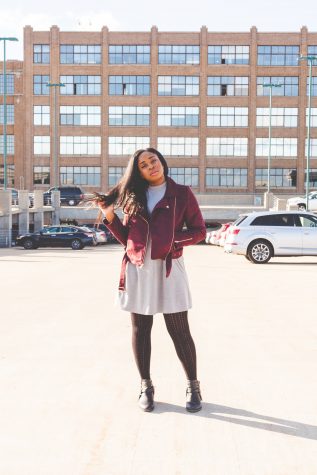 A Topshop in England sells this particular dress. A dress like this one can be worn alone, but it is important to layer in order to add dimension to an outfit. Here are the two of many ways it can be worn.
The first outfit consists of a
suede, wine-colored moto jacket with gold zipper detailing
appropriately paired with faux leather booties and a carefree attitude. A
polished mock neck and a rebellious moto jacket seem like an unlikely pair, which makes the combination even better. It adds an element of unexpectedness without going too crazy.
The second outfit is a familiar combo to Style Sunday. The button-down and long overcoat duo does not quit and can be added to almost any outfit. Its lack of obnoxious colors is what gives it its success, although purposely clashing patterns are currently on trend (yes, really).
Photos by Ken Bustos
The striped mock neck
As mentioned above, mixing patterns harmoniously (or unharmoniously) is a trend. The stonewashed jeans, the leopard print jacket and striped mock neck top all work together without overpowering each other.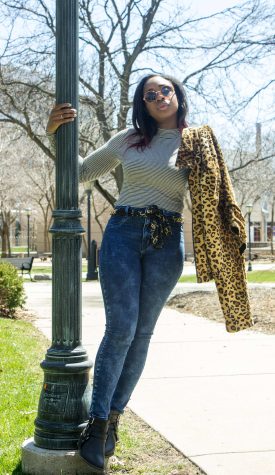 Photo by Corey Fells
The mock neck crop top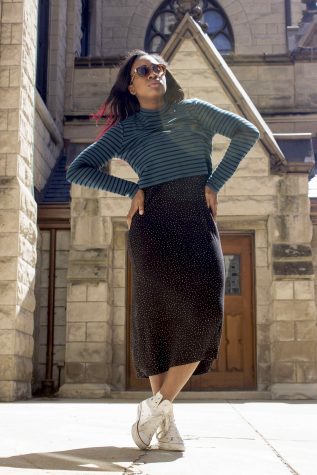 This outfit doesn't only play with patterns — it also plays with length. The contradicting lengths of the crop top and the maxi dress make it visually interesting, not to mention it gives the appearance of height. That tends to happen when pairing to get
her garments of different lengths (it is also possible to appear shorter if done incorrectly).
Photo by Corey Fells
Leave a Comment