On a crisp Saturday morning at Washington Park, next to a black court with painted-white lines and double-rimmed hoops, a dark blue van with a big "MU" sticker rolls up to the street curb and stops. 
Out steps a horde of Marquette women's basketball players, ready to give back to the community and teach the next generation about the game they love. 
Teaming up with the University of Wisconsin-Milwaukee women's basketball team and Milwaukee Police Department, Marquette hosted a free basketball clinic for the Milwaukee youth.
"A few years of us doing this, coming together with UW-Milwaukee and Marquette basketball is just to get back to our community," Marquette women's basketball head coach Megan Duffy said. "The youth are so important to both of our programs. Helping our next generation of kids walking around, the smiles, the laugh, there's a little trash talking going on. It's been a special afternoon."
'Call everyone coach'
Before the kids started warming up, Duffy gave a speech to the entire clinic about the day. 
After several pauses of kids griddying and dancing, she finished with three words: "Call everyone coach."
For two hours, the normal player and coach roles were thrown away and Milwaukee and Marquette players were all given whistles and a name tag with "coach" written on it. 
"I really have fun when I'm able to influence the kids, especially with the basketball piece," senior guard Jordan King, who has coached at the event for three years, said. 
Each basket had different stations where Milwaukee and Marquette players worked together to run drills for different fundamentals of basketball. 
There was 1-on-1, defensive positioning, passing, dribbling, footwork and shooting drills. Senior forward Liza Karlen and first-year guard Halle Vice played 'Simon Says,' but instead of Simon, it was "Coach Says." Sophomore guard Mackenzie Hare ran the shooting station.
King was over at the 1-on-1 drill, getting amped up at every crossover and layup. 
"It's really fun to see those kids get excited," King said. "They're having a lot of fun, so when you can add that energy to it, it makes it even better."
But coaches aren't just whiteboard-touting basketball know-it-alls, they are mentors. 
After the drills were done, every player sat down with the kids for a Q&A session to give advice on basketball and life in general. 
Duffy, whose favorite drill was the 1-on-1 station, said she loves seeing her players try their hand at coaching. 
"They do a great job of just coaching the kids up and they always talk about that was them at some point a few years ago," Duffy said. "Sometimes they sound a little bit like Coach Duffy at times, but it's just great for them to be teaching and coaching the game."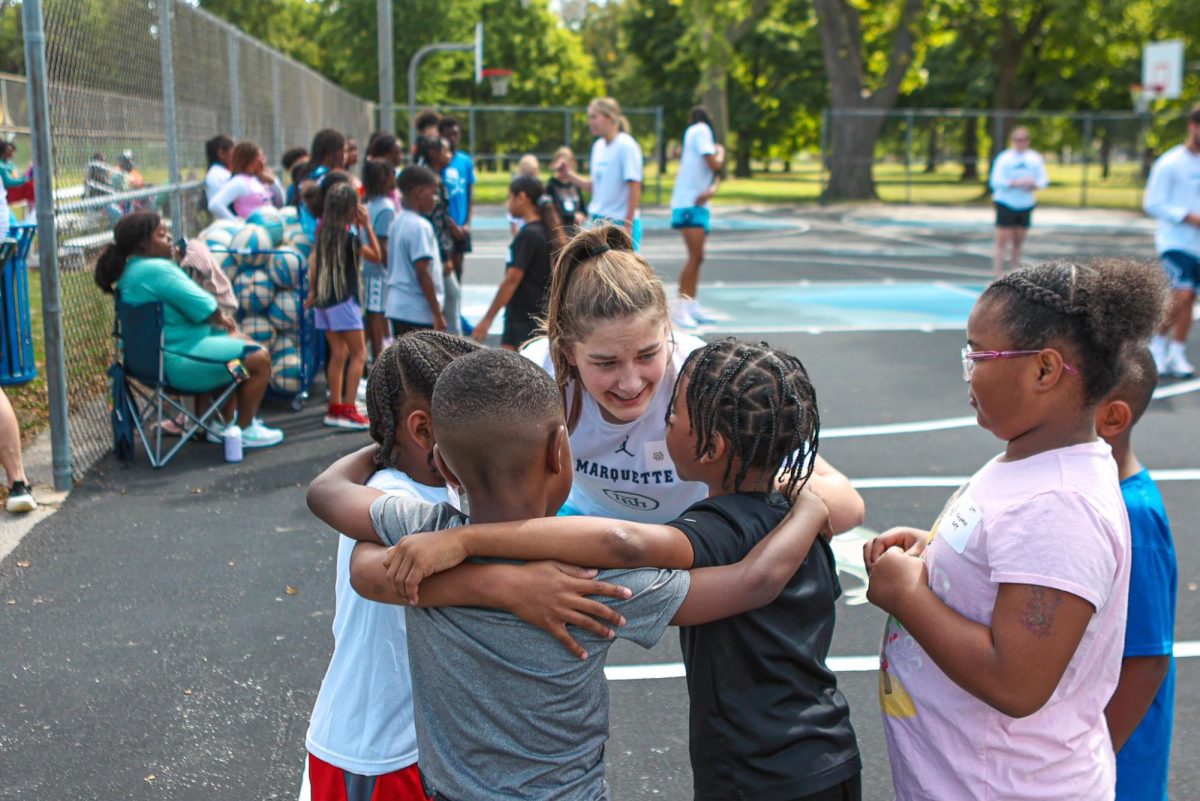 Adapting for everyone
Once the drills ended and it was almost time to wrap up, the shoes stopped squeaking, the running stopped and the young kids tried a different version of basketball. One in wheelchairs.
Along with the Milwaukee and Marquette basketball programs, the Wisconsin Adaptive Sports Association helped run their own clinic and scrimmage.
Two WASA members, Gianna Quintero and Taylor Post, went on different teams and played a scrimmage with the kids, teaching them how to play the game of basketball while sitting in a wheelchair. 
Post said he was excited to play basketball with people that don't normally play in wheelchairs. 
"It's pretty cool because we're included," Post said. "Mostly we're just with people in wheelchairs."
Co-founder of WASA Melissa Oberst said she was honored to participate in the event, and she couldn't wait to watch all the Milwaukee youth play wheelchair basketball. 
"We're just in a different pair of shoes playing the same sport, same height of the basketball (rim)," Oberst said. "Just think how hard it is to shoot a basketball without having legs to help lift you up to get those buckets in."
Duffy said WASA shows that there are "many different ways that you can love sports."
Marquette's season schedule changes every year, but what won't change is the team's preseason community outreach schedule. At least as long as Duffy has a say.
"We want to keep building this and getting more groups from our community out," Duffy said. "As many organizations and groups that we can have. Come celebrate our youth and have them have some fun with basketball as well."
This story was written by Jack Albright. He can be reached at [email protected] or on Twitter/X @JackAlbrightMU.