Recruiting Q-and-A: Five-star point guard Nico Mannion discusses his recruitment, interest in Marquette
Hang on for a minute...we're trying to find some more stories you might like.
Marquette freshman Brendan Bailey has quite a history with five-star point guard recruit Nico Mannion.
"I've known Brendan since I was probably six years old, five years old," Mannion said. "They had a little hoop on the set for me and Brendan to be playing for like two, three, four hours a night together."
Now Bailey and Marquette are trying to get Mannion, one of the top point guards in this year's high school senior class, to commit to Marquette.
247Sports ranks Mannion 15th in his class and first among point guards in the site's composite rankings. ESPN ranks him 17th in the class and third among point guards. Here is what he told the Wire:
Q: Could you break down each of the four schools?
Marquette: "I chose them because of my relationship with the coaches. They've been on me for a while now and we talk quite a bit. I really like their staff. I know they have a few players I'm pretty close with: Markus Howard and Brendan Bailey. I kind of grew up with Brendan in Utah. My dad and his dad worked together. I like the way they play. They're up tempo, and they give their guards a lot of freedom."
Duke: "They're just prestigious. They offered me a while ago and they've been on me since. Obviously they have a great program. It's kind of like a family environment up there, which is what I like, too. Their play style is obviously a plus. They've been a prestigious school for so long with Coach K being the coach. There's so much history."
Arizona: "It's close to home. I like the staff obviously. They were one of my first Pac-12 offers. Coach Miller is talking about changing the way they play to more guards, which is how I play — up-tempo, fast. He said in the past they had bigs, so they haven't really with DeAndre Ayton and (Dusan) Ristic last year, they weren't really able to play fast. They played to their advantage and throw it into the post and stuff like that. But he said in the upcoming years he wants to change the way they play and play it more up-tempo."
Villanova: "Kind of the same thing as Duke. They're just prestigious, great culture. They're really big on how hard they work, and then they get guys to the league. And they've won two national championships in the last three years, so that just speaks to what they do and how hard they work."
Q: How would you describe your game?
"I would say I'm a pure point guard with the ability to score. I think people get that confused nowadays when they say pure point guard. If they say pure point guard, they're just a passer or a facilitator, but I think I am more of a pure point guard, but I also have the ability to score and shoot."
Q: What is your relationship like with Stan Johnson?
"I'm actually really close to Stan. I talk to him all the time. Sometimes not even about basketball, he'll call and check in. I think he was in Utah this week, which is where I'm from, so he knows a lot of the same people out there that I know. Me and him are very close, and we talk all the time."
Q: What is your relationship like with Wojo?
"I talk to him almost every week. With him it is more strategical about what they see in me and how I can fit in up there."
Q: How are they saying that you can fit in?
"They just say that I can come in and have the ball in my hands. They said I'd be the main ballhandler. And they said, as of right now, they ranked like the No. 1 offense in the country already. Most of their guys will return next year, which is the year — if I go there — that I'd be there. I could just add to that. Play style is obviously going to stay the same. He said they have great shooters, which will just got a lot easier for me and make my job a lot easier."
Q: What are you looking for in a school in general?
"The two main things are play style and relationships with the coaching staff."
Q: Is being in the backcourt with Markus Howard a selling point for them?
"We honestly haven't gotten in depth about that. I'm taking my visit next month, so I'm sure we'll get more into depth with that, but I already know Markus. He grew up here in Arizona. I actually saw him play when he was in high school. He's a great player, and it'd be awesome to play in the backcourt with him. I'm sure it'd make it a lot easier."
Q: What is your relationship like with Brendan Bailey?
"I've known Brendan since I was probably six years old, five years old because his dad and my dad did the pregame, halftime and postgame show for the Jazz. They did that together whenever the Jazz had a home game, me and Brendan would be there. And they had a little hoop on the set for me and Brendan to be playing for like two, three, four hours a night together, so I'm pretty close to him. When they come up to Arizona, he stays in my house. Our parents and our families are really, really close."

About the Writer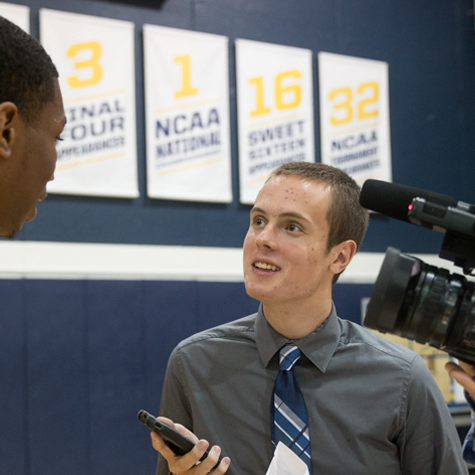 John Steppe, Executive Sports Editor
John Steppe is the executive sports editor for the Marquette Wire. He is a junior majoring in journalism and double-minoring in digital media and Spanish....