With only four players taller than 6-foot-7 on the roster after the 2019-'20 season, Marquette will need to find a big man in either the Class of 2019 or 2020. One option is Dain Dainja, a 6-foot-8 center in the Class of 2020. He took a visit to Marquette at the end of last month, where he also picked up a scholarship offer. He discussed his recruitment with the Wire during the second recruiting evaluation period:
Which schools have been reaching out to you the most?
"A lot. Baylor, West Virginia, North Carolina, Kansas, Iowa, Iowa State, Minnesota, Purdue, Pittsburgh, Wisconsin, Florida … Marquette, Illinois, Northwestern."
What are the strengths in your game?
"Being able to do more than just being in the block. I can step out, make plays for other people, get my teammates involved and score the ball."
What are you looking to still improve on?
"Just my foot speed, my lateral quickness and more athleticism."
Which Marquette coaches have been recruiting you?
"Stan Johnson has been, and the head coach (Steve Wojciechowski). It was a good time when I was down there (for a visit). They took me around the campus and stuff. It was a good experience."
What were your thoughts about campus?
"I thought it was good. Everything's close to each other. They have a good schedule. Everything is downtown in the city, so that's pretty nice, too."

What's been Marquette's pitch to you?
"They want me to come there and play how I play now in AAU. They don't want to switch anything up. These past couple years, they've been having good guards, but they want me to come there and just shine with what I do on the court in AAU."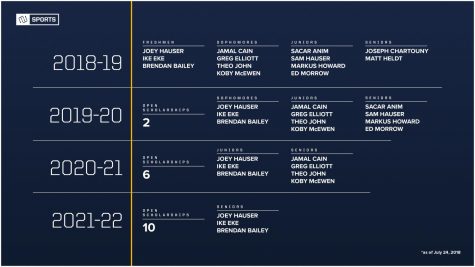 What are you looking for in a school?
"Just a great coaching staff, good players to be around, good people and nice facilities of course."
A lot of the schools that have offered you have also offered (summer basketball teammate) Jalen (Suggs). Is the opportunity to play together you have in mind, or is it just your own decision?
"I would like to play with Jalen a lot, but at the end of the day, we're going to see what's best for me."
Story continues below advertisement