Marquette storms back, knocks off St. John's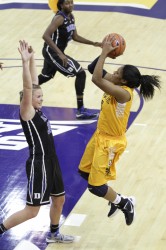 The Marquette women's basketball team has seen both ends of unprecedented comebacks. After surrendering a 17-point lead with 14 minutes left in a 90-86 overtime loss to the Seton Hall Pirates, Marquette staged a dramatic rally of its own in a 74-61 road victory against the St. John's Red Storm.
The Golden Eagles dug themselves into a big hole and trailed by 23 points with nine minutes left in the first half. But Marquette went on a 23-10 run to conclude the half to gain some momentum and trimmed the deficit to just 42-35 heading into the locker room.
In the second half, the Golden Eagles kept inching closer to knotting the game up, but St. John's continued to withstand the rally. With eight minutes left, Marquette began a surge that would put them up for good.
Trailing 56-49 with 8:46 remaining, senior Katie Young scored two of her 26 points to make it 56-51. After both teams traded buckets, Young hit a three to cut the Red Storm's lead to just two points. Junior Cristina Bigica sank two free throws to tie the game at 58, but St. John's answered with a free throw to take back the lead for the last time.
Junior Arlesia Morse's two free throws gave Marquette a 60-59 lead and started a 16-2 run to close out the Red Storm for good. Young sealed the deal with a three-pointer from the baseline that put her team up 67-59 and deflated the opposition.
Three Marquette players scored in double figures, with Young leading the way with 26 points and 12 rebounds. Senior Katherine Plouffe scored 15 points—nine of them in the second half—and sophomore Brooklyn Pumroy contributed 12 points, four rebounds and four assists.
Wednesday's victory was a sign of great character and resiliency from the Golden Eagles, who were coming off of a devastating defeat against Seton Hall just four nights prior. The win could give the team a lot of momentum heading into the final two games of the regular season.
Although it began with a thud, Marquette capped off its two-game road trip with a major triumph over the second-best team in the Big East. The win also puts Marquette into fourth place in the conference with a 10-6 record.
Marquette will play its final home game of the season Saturday afternoon against the Creighton Bluejays and will honor seniors Plouffe, Young and Courtney Thomas.
Leave a Comment