Golden Eagles surrender 17-point lead to lose in OT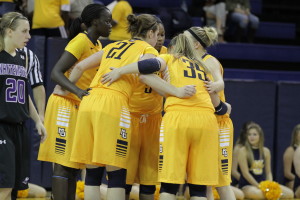 With 3:51 left in overtime, senior guard Katie Young made a layup to give the Marquette women's basketball team an 86-82 lead. From that point forward, Seton Hall shut out the Golden Eagles while rattling off eight points to pull out the 90-86 victory Saturday afternoon.
Marquette (18-8, 9-6) had a chance to pull away late in the second half. With just nine seconds left, Young drilled two free throws to give Marquette a three-point lead. But then Seton Hall sophomore Tabitha Richardson-Smith ran down the court to hit a game-tying three with four seconds left.
Three key players led Seton Hall in the win: Richardson-Smith, Ka-Deidre Simmons and Alexis Brown. Richardson-Smith set a new career-high and school record 38 points in the game. Brown notched 24 points and Simmons chipped in with 17. Together, the three scored 79 of the team's 90 points.
The Golden Eagles were up by 17 at the 14:44 mark in the second half. But then Seton Hall rode its hot shooters and constantly chipped away at the Marquette lead.
Young and fellow senior Katherine Plouffe both had double-doubles in the loss. Plouffe scored 23 points while bringing in 11 rebounds, while Young was close behind her with 21 points and 12 rebounds. That marked the third time all season that the Golden Eagles had two players score 20 or more points.
Marquette still struggled in taking care of the ball, as the team turned it over 21 times. Seton Hall managed to score 26 points off those turnovers. Conversely, the Pirates only turned the ball over 10 times, which led to just seven points for Marquette.
The Golden Eagles continue their road trip Wednesday night against St. John's. Tip-off against the conference leaders is 6 p.m.
Leave a Comment