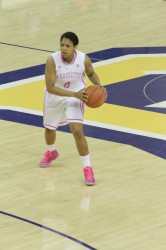 The Marquette women's basketball team went down in gut-wrenching fashion against the Butler Bulldogs Saturday afternoon, losing 74-70.
In a game where the two teams wore pink to raise awareness for breast cancer, the Bulldogs and Golden Eagles treated the crowd at the Al McGuire Center to a heavyweight fight.
"It hurts and that's this conference this year," coach Terri Mitchell said. "We have to figure out a way to rebound quickly and get ready to go on the road to Providence."
Senior Katie Young plagued a tremendous game with 21 points, 15 rebounds, four assists, one block and one steal.
"Katie's an effort, energy person," Mitchell said. "When she gets that energy and creates that everybody goes around her."
Junior Arlesia Morse was the only other Golden Eagle to score in double figures with 16 points, 12 of which came off of three-pointers. Morse was especially important in countering Butler's eight triples.
"That's Arlesia's game and our team did a really good job of finding her," Mitchell said.
The Bulldogs held senior Katherine Plouffe in check. She scored only nine points on 3-of-12 shooting. It was the fourth time all season that Plouffe did not score in double figures.
"She gets a lot of attention because everybody knows she's our leading scorer and it just wasn't her night," Mitchell said. "She was turning it over because she was trying to do too much. She's very disappointed in that locker room, and I know she'll come out stronger in the next game."
After a slow start offensively, the Golden Eagles assumed control in the first half and led by as many as 11 in the first half. Butler trailed by six at halftime, but started the second half on a 14-5 run to take a lead that it would hold for almost the rest of the 16 minutes left in the game.
Trailing by three with 3:35 left in the game, Morse drilled a three-pointer to tie the game at 64. Almost a minute later, Plouffe grabbed an offensive rebound and scored on a put-back layup to give Marquette the lead. Twenty-six seconds later, Butler's Daress McClung answered with a three to give the Bulldogs a lead they wouldn't look back on.
Despite dominating Butler on the glass by a margin of 48-30, Mitchell said it was her team's defense that let her team down.
"We did not get the stops that we needed at the critical times," Mitchell said. "When push came to shove, the reason we lost was because we didn't lock down like we needed to."
The loss drops the Golden Eagles to 6-5 in the Big East. The team will travel to Rhode Island to face Providence Tuesday. Tipoff is at 6 p.m. CST.