Basketball exhibitions: what to watch for
Men and women's teams to play tune-up games before regular-season opener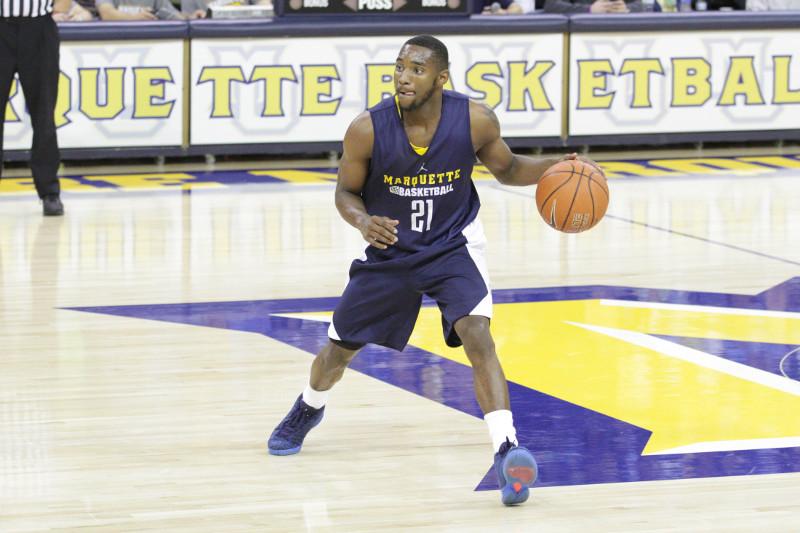 Jack Goods and Andrew Goldstein
November 5, 2015
Marquette men's basketball will play its only exhibition of the season Monday against Valley City State. The Vikings, who play in NCAA's Division III, have already played in two regular season games, including a 128-52 demolition of Oglala Lakota College. They'll play twice more before their visit to Milwaukee.
Similar to last season's 115-47 rout of Wisconsin Lutheran, this exhibition likely will not be a difficult matchup for Marquette. Still, there are some key storylines to follow in the game as the team gets prepared for the regular season.
1.Who will play the point? Based on the rotation in Italy and what players said at the team's media day, it sounds like freshman Traci Carter could start at point guard this season, with junior Duane Wilson moving to shooting guard, a position that is a better fit for his skill set. Head coach Steve Wojciechowski could experiment to see who runs the offense best, and who gets the most playing time will be important to monitor. Freshman Haanif Cheatham could also be a candidate to start at the position if he impresses, but he seemed less effective than Carter during Marquette Madness.
2. Team chemistry. If Carter does take over starting point guard duties, then this year's team will have two new freshmen in the starting lineup. The five-player recruiting class makes up more than a third of the team's roster. Most of the players on the team never played together before this season, making the team's preseason trip to Italy especially valuable. Will the Golden Eagles still have some issues with chemistry, or have they already worked out some of the game-speed kinks?
3. Free throws. If there's one thing that has absolutely nothing to do with the competition Marquette is playing, it's free throw shooting ability. It's just you, the basketball and the hoop standing 15-feet away. It's a skill the Golden Eagles need to improve if they hope to succeed this season. Last year Marquette was last in the BIG EAST in free throw percentage, shooting just under 65 percent. The Golden Eagles should benefit from both big men, Luke Fischer and Henry Ellenson, being serviceable from the line.
4. Ellenson family reunion. Wally and Henry Ellenson are getting the opportunity to play their brother, Ellwood, in the exhibition. A junior forward, Ellwood averaged just under seven points and seven rebounds in 17 games last season. It was his first season at Valley City State after transferring from Bemidji State. He has 10 points total in the Vikings' two games so far this fall. Ellwood is listed at 6-foot-8, which means he could face one of his brothers on Monday night.
Women's basketball will also get its season underway on Sunday when the Golden Eagles take on the Division II Southwest Baptist Bearcats in an exhibition game. There are three principal notes to watch for:
1. Youth. Youth is the name of the game when it comes to the 2015-'16 Marquette women's basketball team, which features only three returning players from last year's team and zero returning starters. Eight of the 11 players on the team are first-year freshmen, which makes Marquette the youngest team in Division I out of 349 programs. There's a lot of talent on this team that will manifest itself down the road, but growing pains are definitely expected.
2. Speed. Last year, head coach Carolyn Kieger opted for an offense that emphasized fast breaks and lightning-quick drives to the hoop, which definitely worked to some extent. Marquette averaged 67.4 points per game last year, which put them solidly in the top half of the country. Five out of the six guards that played for last year's team are gone, however, so Marquette will have to find some new sources of offense to fill the rather large scoring void left by graduated senior Arlesia Morse (14.7 points per game) and transfer Kenisha Bell (14.5 ppg).
3. Lack of size and defense. Marquette's 9-21 record last season was largely due to them giving up 77.9 points per game, which put the Golden Eagles in the bottom five of the entire country in scoring defense. This problem will only be made worse by the fact that sophomore Shantelle Valentine is this team's only true center; nobody else on the team has a listed height above 6-foot-1.