Women's basketball grades for 2014-15 season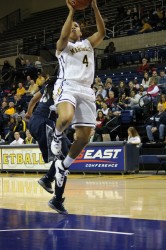 The Marquette women's basketball team, under the guidance of first-year coach Carolyn Kieger, had its worst season in 29 years, finishing 9-21 overall and 4-14 inside the conference. The Golden Eagles haven't experienced such a win-starved season since they went 5-20 in 1985-'86 under Tat Shiely, the program's first head coach. Despite its record, Marquette managed to avoid the Big East's cellar, instead finishing in eighth place out of 10 teams.
Marquette ran an aggressive offense that prioritized driving to the hoop and getting to the free throw line. This often led to the Golden Eagles putting up a fair amount of points, albeit at the expense of ball control and effective defense.
Conference play's first half was not kind to Marquette – the team dropped its first 10 fixtures in Big East play to fall to 4-14 and threaten a program record for most consecutive losses. Something must have started to click in the second half, though, because Kieger's squad started playing much more cohesively, which led to a 4-4 record in their last eight conference games. Marquette even managed a win against Providence in the first round of the Big East tournament before being shredded by top seed Seton Hall in the quarterfinals.
Members of the Marquette Wire sports staff graded every player on the team using the Marquette grading scale (A, AB, B, etc). The grades were then averaged for each player to get the grades you see below. These marks reflect the relative magnitude of each player's tangible and/or observable in-game contributions to the success of the team.
Arlesia Morse- B
Morse, a senior, was the undisputed leader of this Marquette team. She shot 92.1 percent from the line, good for second in the country, and averaged a team-high 14.7 points per game. She also had a streak of 51 made free throws, just nine shy of the all-time NCAA women's record.
She was dinged a few points by the graders for her occasionally sloppy defense. It also seemed like she struggled to put points on the board when she couldn't get to the foul line. Overall, though, she did an admirable job this year.
Kenisha Bell- B
Bell asserted herself in her freshman season, scoring 14.5 points per game and making the Big East's All-Freshman team. Coach Kieger constantly raved about Bell's development and ability to control her body in mid-air. She was an effective penetrator and energy player that could ignite Marquette's offense at any moment.
The big flaw in Bell's game is her tendency to give the ball away. She averaged more than four turnovers per game, by far the most on the team. Her defense also left a lot to be desired, a trend typical among freshmen. Out of every player that will be returning to Marquette next year, Bell most likely will have the highest expectations.
Tia Elbert- BC
Elbert joined Bell on the Big East All-Freshman team, and it's not hard to see why. She played an up-tempo style that fit in perfectly with Coach Kieger's run-and-gun mentality. The freshman also dished out 92 assists, the most on the team. She was also arguably Marquette's best perimeter defender, although that's saying extraordinarily little.
Turnovers were the bugaboo for Elbert in much the same way they were for Bell. She averaged two giveaways per game, which doesn't sound like a lot until paired with her average of 26.7 minutes per game. In order for Marquette to succeed next year, Bell will need to become a better ballhandler.
Cristina Bigica- BC
Bigica was the only Marquette forward who could space the floor and knock down jumpers on a consistent basis. That went a long way toward opening up driving lanes for Elbert, Bell and Morse. Her stats were underwhelming and she let up a lot of points in the paint, but she allowed Marquette to alter their court geometry, which made her an asset.
Apiew Ojulu- C
Ojulu was a valuable member of this team for the simple reason that she was the only person who played anything resembling above average defense. She offered some rim protection to go along with her 6.2 rebounds per game. However, there's not a lot to be said for her offensive game, which is unpolished and consists mostly of second-chance put-backs off of rebounds.
Chelsie Butler- CD
Butler usually served as the first sub off the bench in relief of Bigica. She did an adequate job holding down the forward position, but there was nothing really remarkable about her game.
Lauren Tibbs- CD
Tibbs was a good passer and an unselfish presence on the court. Her 6-foot-4 frame also provided some size down low. However, she had trouble consistently asserting herself during the course of the season, although her lack of playing time had a lot to do with that.
Shantelle Valentine- CD
She showed some promise this season, pulling down 10 rebounds in a loss to St. John's. She only played sparingly this year, but we'll probably get a closer look at her next year.
Hannah Grim- CD
Grim only averaged 10.9 minutes per game this season. In light of that, there's really not enough of a sample size to give her a higher grade.
McKayla Yentz- D
She had 12 points in a blowout loss to Seton Hall on Jan. 16. That's pretty much the only notable thing about her performance this season.
Carolyn Kieger- CD
It's always tough to evaluate a new coach – after all, Kieger is trying to adjust to a new set of circumstances and effectively utilize players that she had no hand in choosing. To her credit, she seems to already be carving out a unique, fast break-centric style that could turn into something viable in a few years.
However, when a team finishes in the bottom five in the country in points per game allowed, it's tough not to place blame on the coach. There were also a significant number of games where Marquette's rebounding simply collapsed, which is something that also has to fall on the coach to some degree. All in all, coach Kieger made some good out of a pretty bleak situation, but there are a lot of things on the to-do list for year two.