GOLDEN EAGLE: Golden Eagles benefit from Europe trip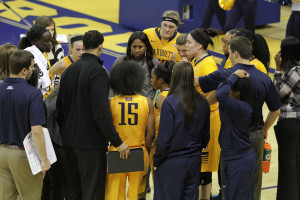 The women's basketball team experienced a shake up this past offseason.
The Golden Eagles lost 55 percent of its scoring from last season, including starters Katherine Plouffe, Katie Young and Brooklyn Pumroy. Marquette is also introducing a new head coach, Carolyn Kieger, into the program. "Transition" would be an understatement when describing the Golden Eagles' upcoming season.
Fortunately, Kieger was given a golden opportunity to not only get to know her team on the court, but also to cultivate a strong bond off it. The Golden Eagles traveled across the Atlantic to Europe at the end of the summer for 10 days to compete in four games against teams from AMW France and the Netherlands Women's National Team. Kieger said this trip was immensely important to the growth of her new team.
"It was remarkable," Kieger said. "It was a true blessing and a gift to walk into a program that was already going to Europe. I think the main thing it really helped was team bonding and chemistry. Our team has really grown and to see them adjust to each other, not only with my staff, but with four new freshmen has been really vital."
The Golden Eagles only went 1-3 during the trip, but Kieger said the trip was more about her team learning to play a new system and getting to know each other off the court.
"Our chemistry has really improved," Kieger said. "The foreign tour had a big thing to do with that (increase in team chemistry). This is our 14th practice today (on media day), but we also got 10 practices in the summer, which really helped us. Not only did I get to know the team's strengths and weaknesses, but they got to know me from a coaching standpoint."
Seniors Apiew Ojulu and Cristina Bigica agreed with their coach. Ojulu said the trip was a great opportunity to build relationships with the new players and staff.
"That was an amazing experience," Ojulu said. "The four freshmen are new, the whole staff is new and I think that built a relationship between us and the coaches. When we're on the court we just got a head start."
Bigica said the trip was a nice way to begin a new season and emphasized the importance of building team chemistry.
"I thought it was a good start because not everyone was together up until that point," Bigica said. "We all banded together and we all had time to build that relationship. A lot of team building not necessarily on the court, but off the court is very important as well."
Kieger highlighted two freshmen who impressed her during the trip.
"The two that really stood out were Tia (Elbert) and Kenisha (Bell)," Kieger said. "Those two have the recipe to be great college basketball players. I think those are two people that this basketball program is going to rely on for years. They're going to do some damage in this conference."
With the season set to begin Saturday, the trip to Europe could prove to be a big advantage for Marquette. Most teams are not given the opportunity to play against quality opponents during the summer and are merely practicing and occasionally scrimmaging against other teams. A head start for a season filled with new faces could lessen the adjustment period once the new era of women's basketball tips off.
Leave a Comment