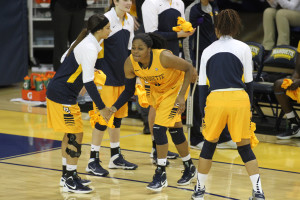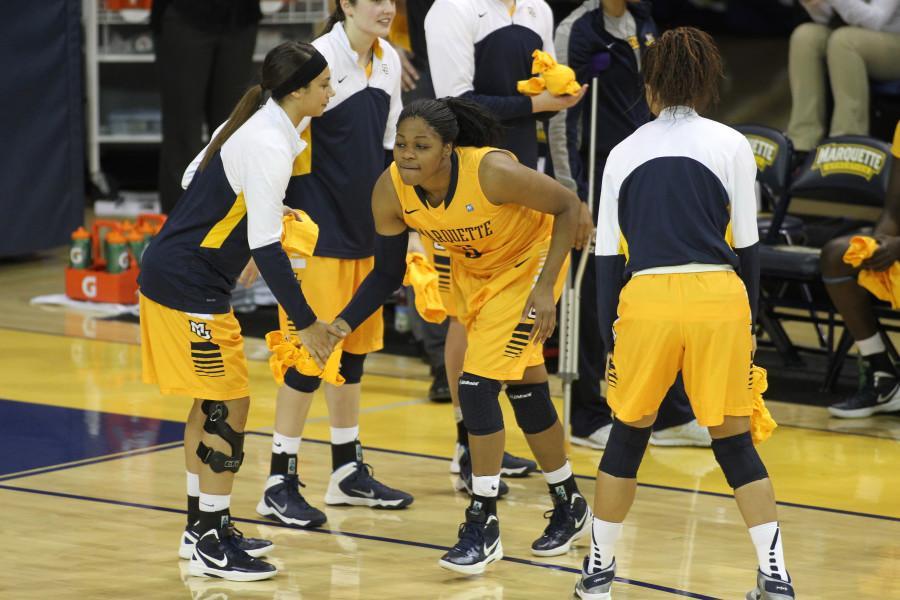 In the past, when a Marquette basketball team finished a season 22-11 overall and 11-7 in the Big East, a typical fan reaction would have been, "So, how did the boys get it done?"
Don't bother lining up to ask the men's players this time around. This season was coach Terri Mitchell and the women's basketball team's time to shine.
Led by seniors Katherine Plouffe (17.1 ppg, 10.2 reb) and Katie Young (12.8 ppg, 8.4 reb), the Golden Eagles enjoyed one of their most fruitful seasons in recent memory. Marquette advanced to the second round in the NIT before losing at Indiana by three, but the Golden Eagles came a long way from last year's injury-marred campaign.
Plouffe and Young proved to be a lethal one-two punch on both ends of the floor, something the men's squad consistently lacked because of Buzz Williams' constant roster-tinkering. With Mitchell's group, you knew what you were going to get out of the players night after night.
The women's team desperately needed a bounce-bank season after a mediocre 16-16 finish and 7-9 Big East record. The injury bug hit the Golden Eagles early and often, which made matters worse for a team that had to play top-ranked Connecticut and Notre Dame. On media day, Plouffe, Young and the rest of the team spoke with determination about turning in the right direction.
The men's seniors lacked urgency after a remarkable Elite Eight run in 2013. For them, there was not much to improve upon, and this attitude was evident in several games this season.
Senior Davante Gardner was a force in the post but never possessed the qualities of a true leader. Senior Jamil Wilson was inconsistent on both ends of the floor. Senior Jake Thomas was too one-dimensional to make a significant impact. Redshirt senior Chris Otule was the culprit on many sloppy mistakes. The passion just wasn't there.
The new Big East allowed the women's team to thrive. No longer does it need to endure blowout losses to Connecticut and Notre Dame. In this realigned league, any team has a chance to win it all.
"People have talked about the UConn thing a lot, and you know what, Connecticut is in a lot of peoples' conferences," Mitchell said on media day. "What I'm excited about is I look up and see the names of those teams (in the rafters) and say, 'This is our league,' and that's what my total focus is on."
The question stewing in Marquette fans' minds after a head-scratcher of a season is: how different would the season have been if Vander Blue chose to stay? Blue declared for the draft last spring with one year of eligibility remaining at Marquette.
Blue was a substantial contributor to the team's tournament run and was a source of energy in times of need. Whether or not his absence played a major role in the Golden Eagles' downhill year is up for debate, but it certainly did not help matters.
Both teams will be under pressure this fall. The women's team is losing 39 percent of its rebounding in Plouffe and Young and Terri Mitchell announced she was stepping down Wednesday. The Golden Eagles have the reliable core of junior Arlesia Morse, sophomore Brooklyn Pumroy, junior Apiew Ojulu and junior Chelsie Butler to retain the momentum.
Junior Todd Mayo and junior Derrick Wilson will be in the spotlight as seniors under recently appointed coach Steve Wojciechowski. Wojciechowski may be the right person to put the men's team back on the winning path because of his dedication and 15-year partnership with Duke coach Mike Krzyzewski.
As the women's team strives for a coveted NCAA Tournament spot and the men prepare to start a new chapter with a new coach, there is plenty reason to devote attention to both programs next winter.