Women's Basketball wins big on National Marquette Day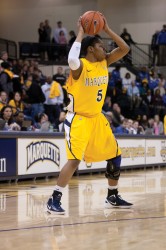 In the first minute of the second half, the Marquette women's basketball team went on a 7-0 run and never stopped pushing. When the buzzer sounded, the Golden Eagles defeated Xavier 75-54.
Coach Terri Mitchell said Xavier did a great job of attacking Marquette early and really took the team by surprise.
"Xavier came out and went after us, and we got back on our heels," Mitchell said. "When we reversed it, we were able to put the game away in the second half."
Senior Katie Young said the team didn't make major adjustments between halves, but did increase its focus.
"We just made minor adjustments," Young said. "Just focused on pressuring the ball. Defense was our mentality coming out … everything starts with the defensive end and that gives us confidence on offense."
Xavier headed into the game with two big disadvantages. The Musketeers suited up seven players due to injury, and Friday afternoon, the team dismissed leading scorer Shatyra Hawkes for violating an athletic department rule.
Even so, Xavier was able to keep it close. But foul trouble and fatigue hit the Musketeers hard, along with Marquette dropping from 13 turnovers in the first half to three in the second.
Young said Mitchell told the team the turnovers could easily be lowered because it wasn't anything Xavier was doing.
"Coach just came in and told us it was us who was creating the turnovers, not really their defense," Young said. " We just needed to focus what we needed to do … and just not forcing things."
Mitchell said the turnovers were a big reason why the teams were tied at halftime.
"First half, Xavier just kept coming at us," Mitchell said. "We turned the ball over quite a bit, and it's tied at halftime. We went in there and talked about focus and getting the ball into the people's hands who can score."
Marquette had a sub-par shooting day from the free throw line, shooting only 61.5 percent. The team more than made up for the lackluster percentage by shooting 49.1 percent from the field and 33.3 percent from behind the three-point line.
Young led the charge for the Golden Eagles. She shot 6-for-10 from the field and 7-for-10 from the charity stripe en route to 19 points, which led all scorers. Young also brought down eight rebounds. Senior Katherine Plouffe and junior Arlesia Morse also reached double digits, scoring 12 points each.
Marquette's best shooter was freshman Ashley Santos. Santos played 22 minutes for Marquette due to early foul trouble for sophomore Brooklyn Pumroy. She was a perfect 3-for-3 from the field and 2-for-2 from behind the arc to notch eight points.
"Ashley's a scorer," Mitchell said. "She's got that scorer mentality. When Brook got in foul trouble, we asked her to step in. She's becoming better at running the team … She gave us 22 great minutes and played a total game."
Marquette's rebounding skills continue to be a major factor, as the Golden Eagles brought down 41 total rebounds. Fifteen of the rebounds were offensive, just one less than Xavier's 16 defensive rebounds.
The Golden Eagles welcome DePaul to the Al McGuire Tuesday at 7 p.m.
"It's a great opportunity to see where we're at," Mitchell said of DePaul. "It's a great opportunity to see how we've grown. … They're playing outstanding basketball. Where we're at, it's going to be a battle the second that ball goes up in the air."