GOODMAN: Don't let senior year pass you by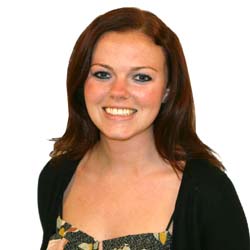 This is a shout out to all the seniors out there – sorry underclassmen.
I'm not sure if it's just me, but three weeks into the first semester of senior year, a few things have become blatantly obvious.
1. I don't know anybody on campus anymore.
OK, maybe that's not entirely true. But still, what used to be an adventure to class full of smiles and waves is now a sad reminder of how many friends have graduated over the years. And when I do get the occasional shout from across the street, it's typically someone who thinks my name is Marquette Sally due to the "Who Will You Be At Marquette" Orientation video. Sorry, Class of 2016 – my name is not actually Sally.
2. Senior year of college is not at all like senior year of high school … in more ways than being of legal drinking age and, hopefully, four years wiser.
Until now, life has been so structured. Many of us have always known exactly what the next step is – grade school turned into high school which turned into college. We played sports, joined clubs, did homework, went to work and had fun.
But this structured safety net is about to vanish. And in complete honestly, I'm afraid to fall.
Thinking about the future is terrifying. Very few of us have any inkling of where we will be at this point next year. Come May, some of us may have jobs, some may not. Further schooling might be an option, but so is dropping everything and traveling the world … or taking up real estate on your parents' couch. Weddings will occur, families will begin and the foreign concept of "settling down" will become all too much of a reality.
3. Worrying about the next step is worthless.
That's right – completely and utterly pointless. Whatever is going to happen, will happen. It's a difficult concept, but it's true. And you know what? It's far too soon to allow panic attacks regarding the future to plague senior year. I have no idea what I'll be doing a year from now, and if anything, that uncertainty will make life a whole lot more exciting for the next nine months.
Yes, the future is important, but don't forget to live in the present. Instead of spending hours each day over-analyzing whether or not your personal statement for medical school was good enough, go out and do something incredible for yourself – not something to simply put on a resume.
Instead of losing sleep over job interviews (which will only make the process seem even more impossible), make time for YOU. Personally reflect each day. Think about what is important and what you truly want to accomplish this year, so come nine months from now, you'll have no regrets.
And most importantly, don't forget to be a college student during the last year it is truly acceptable to do so. Work hard but still have fun. Explore the city, strengthen friendships, meet new people and don't take anything for granted. The last three years have been great, but this year needs to be greater.
After all, we have the rest of our lives to deal with the future.
View Comments (1)