GOODMAN: This holiday season, embrace your inner child again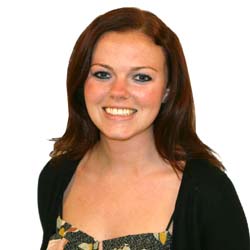 The older I get, the less I want to grow up. In fact, I'd be OK with going back in time and remaining five years old forever.
Graduation, further schooling and job searches all loom dauntingly on the horizon. Friendships and romantic relationships (or a lack thereof) are also becoming increasingly terrifying. I'd trade all of these worries in a heartbeat with the concerns of a five-year-old.
Back in the day, academic concerns consisted of snagging the pretty-colored crayons before everyone else in the preschool class did. Job worries revolved around completing a chore chart in order to be rewarded with a smiley face sticker. Instead of graduating, the goal was simply to make it to nap time. And relationship problems only occurred when an imaginary friend "stole from the cookie jar" and you got blamed for it.
Even if the real world is approaching far too quickly and growing up is about the last thing I want to do right now, this time of year allows everyone to be a kid again. There's something magical about the two-month span from Nov. 1 to Jan. 2 that gives us all an extra little something to look forward to.
For me, the holiday season provides a break from the worries of the future. In a sense, it allows me to be five years old again.
On Thursday I'll wake up to a house full of deliciously mouth-watering smells and the Macy's Thanksgiving Day Parade. In the month following, I'll take a few finals, shop, bake cookies, give to others, describe everything as tasting like Christmas and spend some much needed time with family. My sister and I will reconnect with our claymation friends, Rudolph and Frosty, and perfect our Heat Miser and Snow Miser song and dance routine in the living room.
And I'll continue to hold out hope that Santa Claus does, in fact, exist.
Regardless of what religion, practices or holidays you observe, this time of year is like a trip to Disney World, the Olympics and getting an acceptance letter to Hogwarts, combined.
So don't be afraid to feel "like a little kid on Christmas morning" every once in a while.
Once it snows, go have an epic snowball fight and build snow forts in Central Mall. Watch "Elf" until you're tempted to eat spaghetti drenched with chocolate syrup. Decorate a ton of sugar cookies and deliver them as surprises to various people around campus. Give thoughtful Secret Santa gifts and make an effort to actually enjoy holiday shopping.
Reminisce about holidays past and look forward to holidays in the future. Give thanks for the opportunities you are blessed with on a daily basis. Think about others rather than yourself, and do everything you can to help those in need. Spend as much time with family as possible, and let others know how much you care about them.
I'd argue that as we get older, we need the holiday season even more than what we did when we were children.
So when this long-awaited time of year rolls around, be grateful and take advantage of the chance it provides to reconnect not only with loved ones, but with your five-year-old self.
Sure, growing up is inevitable, but there's nothing wrong with putting it on hold for a short while each year.
Leave a Comment