Rashad's Records: Future and Friends Puts On a Show For Milwaukee
On the day where I thought I was going to be running for my life in intramural soccer, I get a call from none other than my good ol' friend Cam Will, asking me if I wanted to go to the "One Big Party" tour with Future and Friends at Fiserv Forum. It was a tough decision, but the Music Director in me knew that I wanted to go to that concert. Don't worry, my team still got the win.
Heading into the concert this past Sunday, I wasn't sure how much I would enjoy the show. While Future is a superstar in the game and has enough hits to perform for days, the streets were telling me his tour stop in Chicago back in January wasn't that good. I saw Tiktoks saying that he was late, that he didn't have a lot of energy performing and that he only performed for about 30 minutes. So going into the show, I figured that maybe I shouldn't get my hopes up, but just vibe to the music and have a good time.
However, after the show, it made me wonder if Future was just having a bad day in Chicago, because it was certainly a night to remember in Milwaukee.
I arrived to the show around the time Dess Dior was performing.  Dior handed the mic off to Mariah The Scientist, as they performed their collaboration, "Stone Cold." I wasn't too familiar with the artist's music, but I liked the chillness of Mariah's set, as it prepared us for the rest of the party.
Next up was Chicago artist G Herbo, who I saw previously last summer at Lyrical Lemonade's Summer Smash Festival. Herbo came out with a lot of energy, leading with songs like "Aye" and "Who Run It" to start his set. Something I realized about Herbo was that while he isn't the most mainstream artist out of Chicago like Lil Durk and Polo G, he has a loyal fanbase that's equal to those two.
Looking around, everyone was turnt up to his set, rapping along with him and overall showing him the love he deserved. You would have thought these people wrote his songs the way they were rapping along to it. He even took time out of his performance to sign his fans shoes. With a lot of his music themes being based on PTSD and how he grew up, it's great to see a kid from Chicago rock out and have fun. Although, he did say "Minnesota, thank you" before leaving his set, eventually correcting himself before walking off. Maybe he was having a little too much fun on a Sunday, but I digress.
After G Herbo, it was Don Toliver's turn to take the stage. I knew it was gonna be a good set when he came out to his "I Can't Save You (Interlude)" collaboration with Metro Boomin and Future. That was easily my favorite song off Metro's "HEROES & VILLIANS" album and it hit so different hearing it live.
Toliver was also looking like he was having a great time on stage, often breaking into dance in the middle of his song. He featured a few songs from his latest album, "Love Sick," including his Future assisted track "Private Landing" and "Embarrassed" which features Travis Scott. It was my first time hearing him live, and I never realized how great of a voice he really has. Granted, a lot of auto-tune was mixed in between, but his ability to hit his high notes as a live performer is definitely something that isn't as talked about as it should be.
After Toliver's performance, the set designers had a huge inflated woman on the stage set up for Future. After a 10-minute wait, the man of the hour was center stage at Fiserv Forum. He came out on fire too, performing some of the first few songs off his 2022 Grammy nominated album, "I NEVER LIKED YOU." Hearing "712PM" live was definitely a life changing moment and I recommend it for everybody.
During his set, Future said he wasn't just gonna play the songs you hear on the radio, but the "songs for the streets." And he kept his promise, performing a lot of Future songs that I honestly hadn't heard in so long. "Same Damn Time," "Stick Talk" and "Thought It Was A Drought" were just a few of the older songs he played throughout the night. A lot of them were just snippets of the song, but it was still nice to see Future tap back into his bag with this performance, as he has A LOT of music from his 12–year career.
As his set went on, he started to play more of his recent songs, including songs like "Way 2 Sexy" and "Drankin N Smokin."  In the middle of his set, EST Gee and Young Scooter took over for a few songs. EST Gee was someone I was excited for, especially cause he's an artist I've been listening to a lot in 2023. However, he was performing a lot of new songs off his new album, "MAD." While there's nothing wrong with it, I realized Gee doesn't have too many well known songs, or at least not yet at least. Their set was only about 15 minutes before Future finished the show off.
As his set was winding down, Future started to slow things down, playing tracks like his feature with Rihanna "Loveeeeeee Song," "Turn On The Lights," and of course, his Grammy winning record, "WAIT FOR U." In the great spirit of March, he performed "March Madness" to get the crowed hyped once more before he headed to his next tour stop.
"One Big Party" is the perfect name for the tour, because that's exactly how it felt. It felt like Future was trying to keep everyone lit the whole time, with his fellow artists bringing that same energy too. Even the DJ in between sets was getting the crowd hyped, telling the crowd things like "light your phone up if you got more money than your ex" to get them going crazy. Things like that can seem really small, but it helps out a ton when you got a sold out crowd in an NBA arena at your hand.
One thing I will note, however, is that this was a very long concert. The last song was performed at 11 p.m., and the show started at 7 p.m., with the doors being opened at 5:30 p.m. While I can't complain about hearing more music, I will say going to a concert at 10 p.m. on a school night was a crazy move for myself. Thankfully, I got a good night's sleep after all that standing around.
Seeing Future live was something I never expected to do, but it was for sure a special experience. He's easily one of the most influential artists of this generation of hip-hop and has a lot of hits to his name. I still feel like people underrate him and his catalogue, and this tour is letting all his fans know that he's still on top despite all the years in the game. After all, you don't get eight number one albums just off being average.
This article was written by Rashad Alexander. He can be reached at [email protected].
Leave a Comment
About the Contributor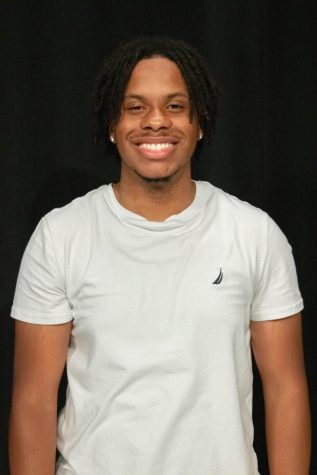 Rashad Alexander, Music Director
Rashad is the music director for MUR at the Wire. He is a senior from Chicago, IL studying journalism and minoring in writing intensive English.

In...