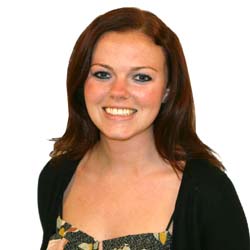 This time of the semester can be scary. Raynor becomes a battleground; everyone tweaks out in class because of the excessive amounts of coffee they've consumed. Anarchy becomes a legitimate option when a professor goes over class time and steals those extra two minutes that could be used to study or sleep.
Finals week is like Christmas Eve when you're four. Sleep isn't an option because you're too anxious for what awaits in the morning; all you want is to receive the items on your Christmas list (in this case As on every final paper and exam); and you really just end up eating a whole lot of cookies.
It would be nice if we could have Rudolph's shiny red nose to lead use through the storm that is finals week as he did for Santa on Christmas Eve, but unfortunately, there's no such luck. We deal with it, do work and power through however we can. And you know what? That's just how it has to be.
The typical direction I could take this column would be to try to give a bunch of advice on how to manage the stress of finals week. But the truth is, it'd be pointless for me to write 600 words about stress management and maintaining personal health when I'm not even keeping up my own right now.
Plus, if I tried to say that getting a decent amount of sleep is a priority over the next week, nobody would listen to me anyway.
Sleep deprivation is inevitable, exercise routines disappear, everyone (myself included) becomes obnoxious and sometimes all your want to do is give up. And that's OK.
If you need to stay up until 4 a.m. to finish your million papers and group projects due the week before finals, do it. And if you find yourself in Cudahy when the building lights get turned off, don't let it depress you – look at it as an experience you can cross off your Marquette bucket list. In a little more than a week you'll be able to sleep in and take naps without feeling guilty for not reading or studying.
If you typically work out every day but don't have the time right now to do so, don't let it stress you out. In fact, go shamelessly eat ice cream and the chocolate in your Advent calendar. If working out is your stress relief, do it. And if you really need to burn some calories, there's always the option of the good old flash card sit-ups or lifting stacks of textbooks instead of weights.
But if going to the gym feels like a burden, remember that you can get back on track during break – don't let a missed workout add even more worry to your day.
And if people are bothering you, or you're bothering them, go spend time alone. Emotions and stress run high right now, and the last thing anyone needs is a fight to break out over not completing jobs on a chore chart or saying something passive aggressive. We're all in the same boat, so simply walking away might be the best thing for everyone involved.
So although Student Health Service and the Counseling Center will probably be upset with me for suggesting that you throw personal health out the window for the next week, I won't try to give you advice. Eat a ton of junk food, drink gallons of coffee and study until you can't keep yours eyes open anymore.
Do whatever you need to do to get through this next week and look forward to all of the wonders that lay ahead – family, friends, celebrations that will occur when the world still exists on Dec. 22 and a much needed four weeks of activities that do not include finals.