Day Three was bittersweet for many Pitchfork goers, ecstatic about seeing some of their favorite artists, but also down about the festival being over which went by so quickly. Here's our recap of the final day of an incredible weekend of live music. 
Palm
Being the first act of Day Three, Palm had a patient crowd eagerly waiting at the Blue stage for their set to begin. After their cancellation on Day Two, it was an uplifting moment to see that the festival rescheduled their show. With Palm in the process of retiring, this would be one of their last performances ever.
Palm's drummer had a setup that was entirely different from others at the festival, a full drum kit equipped with an electronic drum pad which is truly the backbone of their art-rock sound. They are known for being unconventional, which was showcased on stage, an intriguing sound that is rare to come by in terms of the art-rock scene. It's unfortunate that they will be retiring, but hopefully this opens new doors for the band's members. – Sofía Cortés
Florist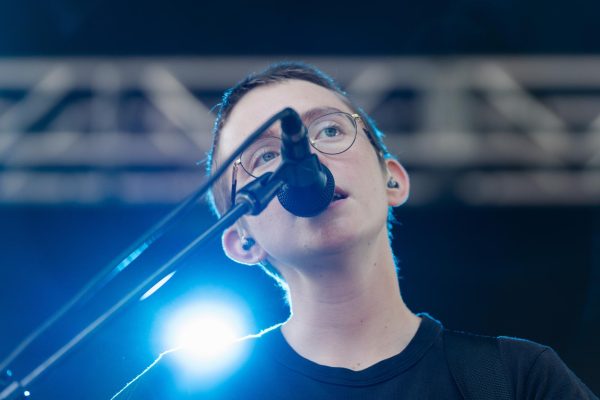 Florist is an indie folk band from Brooklyn, who's soft poetic sound left the crowd speechless. Lead singer Emily Sprague's beautiful vocals paired with a soft guitar and drums leaves listeners dumbfounded by this band's sound. Creative lyrics and song titles such as "Sci-Fi Silence" really makes this band unique in the indie folk scene. This was a crowd who just watched them take the stage, you couldn't keep your eyes off of them. Although many Florist fans knew the words to most of their songs, it was one of those collective moments in which everyone stayed silent, purely appreciating and listening so very deeply to Sprague singing.
They performed a few new songs, one of them even being used in an upcoming movie that's set to release next year. Towards the end of their set Sprague talked about vulnerability as she was getting ready to perform a song on her own, just her and her guitar while her bandmates stood quietly and watched. Her words remind people that it's beautiful to be vulnerable. After their show was over, she handed the setlist to a longtime fan and one of the security guards at the stage mentioned that this has never been done at Pitchfork Music Festival. – Sofía Cortés
Jockstrap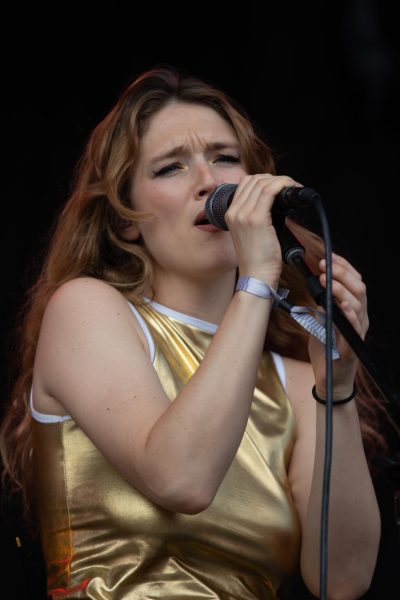 Jockstrap, an experimental pop duo, made their mark on Pitchfork's Red Stage with one of the most memorable performances of the weekend. It was by far the loudest set of the weekend, with pounding electronic bass tones and beautiful live string arrangements. Georgia Ellery, the duo's vocalist, tied the entire set together with her stunning voice. Clad in an almost entirely gold outfit, she had an unmistakable presence on stage, striking iconic poses as she performed her musical arrangements. 
Taylor Skye, the other half of the duo, can't be ignored. His ability to recreate complex electronic soundscapes live on stage is impressive, and though his outfit wasn't nearly as flashy, his unique wig caught my eye several times during the performance. Together this duo brought high-tier musical talent to the big stage, making their mark as one of the best sets of the weekend. – Sam Baughn
JPEGMAFIA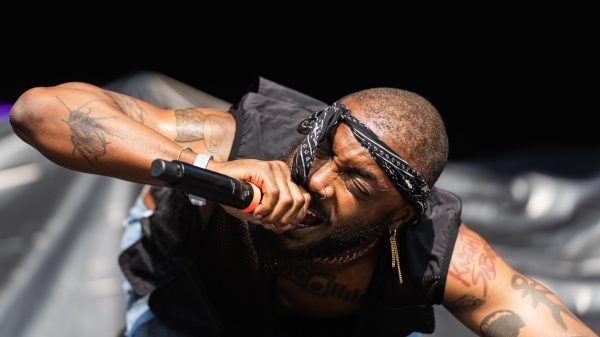 When I think back to Peggy's set several words come to mind. Hectic, sweaty, loud, tiring, but above all fun. Peggy was by far the most interactive of all the artists I witnessed, jumping off the stage onto the speakers, and into the photo pit itself. He got up to the barricade, leaning into the crowd at several points, which only seemed to rile them up further. 
The crowd itself was the most energetic I've seen in my life, with massive mosh pits opening up to nearly all the songs. After taking photos I decided to jump straight into the pit to get the full JPEGMAFIA concert experience, and it was by far the most intense 45 minutes of my life. Sweat, tears, and water fogged up the air, as the crowd kicked up dust and dirt, a wave of people pushing each other to the music. It was one of those rare performances where the crowd reflected the energy of songs tenfold. 
Peggy's performance was wrought with several technical difficulties due to the heat. His laptop overheated, and had to be moved off stage, and though normally difficulties like this would be hard to push past, for Peggy it was an easy barrier to cross. Despite these tech issues, the set remained the most fun of the weekend, and left my adrenaline pumping for hours following it. – Sam Baughn
Mdou Moctar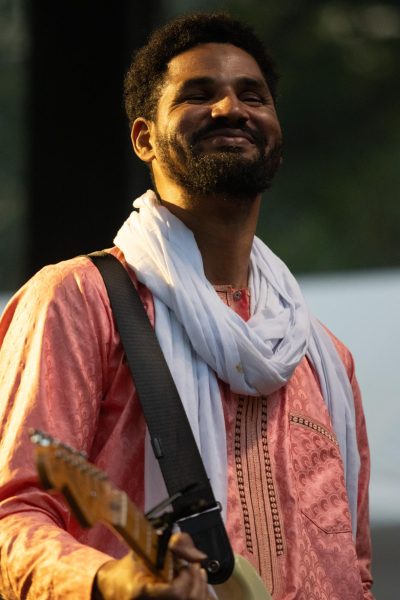 Mdou Moctar brought joy to the Blue Stage of Pitchfork Music Festival. I joined the set late, and the first thing that caught my eye was the massive smile on Moctar's face. He seemed genuinely proud and moved to be performing at Pitchfork, and that joy was infectious. The crowd cheered at every open moment, and Moctar seemed to be moved towards tears at a point. This kind of joy was beautiful to witness, and was only highlighted by the incredible music that accompanied it. 
Mdou Moctar rocks, there really isn't any other way to put it. It's the kind of music that just makes you want to move, and the traditional outfits and colorful gear hold your attention the entire time. Moctar himself lays down addicting guitar grooves, but his backing band is not to be ignored. The bassist was very impressive, standing stoically, fingers moving faster than my eyes could check. It was the kind of band that is mind blowing to watch play, a display of well practiced talent. They bent genre, mashed culture, and gave Pitchfork's Blue stage a beautiful send off with a performance that left a mark not just in my mind, but in my heart. – Sam Baughn
Day Three ended with a stunning performance from festival headliner Bon Iver. Keep an eye out for a full recap of the headlining performance, coming soon.
With that we conclude our during festival coverage. The weekend was an incredibly beautiful one, filled with amazing music, life changing moments, good food, and great company. Keep an eye out for post festival coverage coming over the next couple weeks, including full performance photo galleries, post festival articles, and perhaps even an interview or two.
This story was written by Sam Baughn and Sofía Cortés. They can be reached at [email protected] and [email protected].