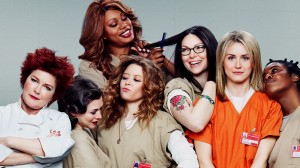 The weird and amazing thing about the current media industry is that there is almost too much great television. Not "too much" in the sense that there's a surplus for people to obsess over and binge-watch because that is impossible. There can never be too much great television.
But when the Emmys rolls around, that excess of talent becomes an issue, one that was evident at the 2014 awards Monday night. With so many deserving nominees and just as many snubs, there seems to be too much content to really feel like one singular show or person full-heartedly deserves a nomination or award; any exceptions are few and far between. For nearly every category, other nominees and some who were not even nominated could easily have been winners last night. A surplus is not a bad thing until quality becomes an issue, and yet quality seems to be that surplus in television. 
The problem with the Emmys this year, and the past couple of years, is the unwillingness of voters to recognize the newer talent showing up on television. It took almost an hour into the show for a nominee who had not previously won to receive an award. When Stephan Moffat broke the streak with his win in Outstanding Writing for "Sherlock," the academy proceeded to award "Sherlock" two more awards (in Outstanding Supporting Actor in a Miniseries for Martin Freeman and Outstanding Actor in a Miniseries for Benedict Cumberbatch). It is almost as if the Emmy voters have not caught up to the changes pushing television forward.
The Emmys out-of-touch views are made clear when second, third and fourth time winners are winning continually over the years and beating out performers and shows that are doing really groundbreaking work in the field. Sometimes, it is well-deserved, like in the case of Aaron Paul for "Breaking Bad" or Julia Louis-Dreyfus for "Veep." However, the overlooks of Taylor Schilling from "OITNB" for Outstanding Lead Actress in a comedy and the show itself for Outstanding Comedy Series are telling. Schilling's performances and the show are at the forefront of television with other shows that push the medium's boundaries. Fortunately, "Fargo," a reimagining of a movie with which many Emmy voters are probably familiar, received proper recognition. It has held critics' rapt attention since its debut and certainly deserved its directing award, if not the rest of its award nominations.
The desire by voters to stick to the status quo and not stray from what seems to be manufactured tradition is what makes the Emmys boring to watch and, even worse, irrelevant. The awards are simply not a fair or accurate representation of what the television climate is at a particular moment in time.  Television, and media in general, is at its best when it is highlighting the differences and nuance of the human condition. The Emmys may continue to stick to tradition and the "safe-bets," but television will hopefully continue to stride right past them.