After only their third song, "Dried Roses" I began to cry, and I'm not sure if that's because it was a moment that I've waited so long for or because every expectation that I had for their set was completely blown away. New York City-based indie folk band, Big Thief put on one of the most incredible live performances I've seen, they surpassed every expectation I had beforehand. I stood in the crowd waiting for them for about an hour, making sure I had the best spot to fully experience what I didn't know I wasn't expecting. It started to rain and that made my experience all that more memorable, seeing the band I'd wanted to see for years, under the graying clouds.
Big Thief walked out on stage with guitarist Buck Meek wearing a full suit complete with dress shoes, lead singer/guitarist Adrienne Lenker in simple blue jeans and a tank top, bassist Max Oleartchik wearing nothing but a pink mermaid tail and drummer James Krivechna wearing an intricate orange suit completed with gold, shimmering shoulder pads. You couldn't miss them; they looked dramatic, and eccentric and apart from the music, their presence is something I'll never forget.
Both Meek and Lenker switched guitars after almost every song, proving that their set is as complex and thought out as their recorded music. As for Oleartchik, he was switching from guitar to a cello which both sounded and looked visually stunning on stage. Drummer Krivechna placed a tambourine on top of his cymbals, making for a unique sound. During their closing song, "Spud Infinity" the band brought out a special guest who played the mouth harp, an instrument with one of the most distinguishing sounds.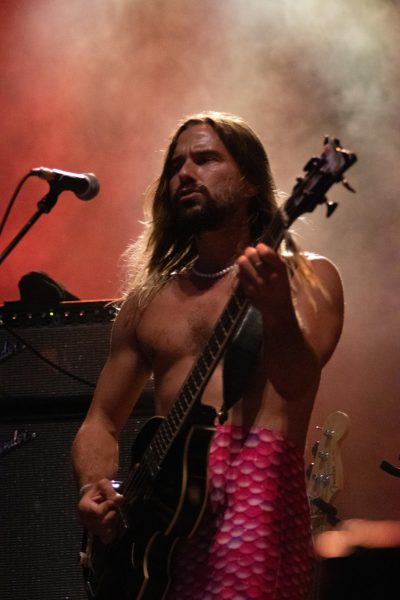 I've had emotionally transcending experiences at concerts, but this show talked to me in words I'd never heard before. They played a few new unreleased songs, with only Lenker's vocals taking the stage. Before she started, she stood waiting for the crowd to quiet which didn't take long at all. It always fascinates me to see the power that one person holds, being able to silence thousands with a single voice and an acoustic guitar. 
Big Thief's lyrics hold a very close place in my heart, as they are unmistakably poetic, at times using repetition and metaphors that relate heavily to the environment, the heart and acceptance. Referencing things such as washing machines, extraterrestrials, clouds and a moth in their lyrics, they are relatable on a whole other level. Their lyrics, paired with Lenker's soft yet powerful vocals are easily distinguishable and is sure to make me feel a range of emotions every time I listen to them, especially the song "Free Treasure."
 "There's a God at the nape of my neck
And he hangs out there all day
 He quantifies my every thought
Tells me not to play"
After their closing song, Lenker shared some closing remarks: "Take care of yourselves and take care of each other," a universally heartfelt message that will stick with me through life. This was one of those moments in which I imagined myself living there forever, pleading to myself that their set wouldn't end, a rollercoaster of emotions that I'll always willingly return to in my own head. 
This story was written by Sofía Cortés. She can be reached at [email protected].