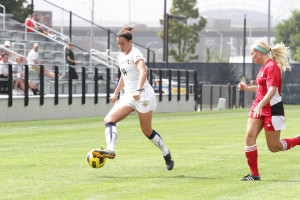 The Marquette women's soccer team will look to build off its success in the Colorado College Invitational when it welcomes the Wisconsin-Milwaukee Panthers to Valley Fields Thursday night.
The Golden Eagles snapped a three-game losing streak in Colorado Springs, Colo., and played solidly on both sides of the ball. They also welcomed back Mary Luba and Ashley Handwork during the tournament.
Coach Markus Roeders said getting Luba back into the lineup is a big boost for the team.
"Luba is a fantastic player," Roeders said. "She's the key to our game. She does the stuff in the midfield from the standpoint of just settling us down … she's a senior leader for us."
Much like Marquette, Wisconsin-Milwaukee has not started the way it had hoped. However, unlike Marquette, the rough play has continued into the back half of non-conference play.
The Panthers head into Valley Fields sporting a 1-5-0 record, its only win a 4-2 victory against College of Charleston in the Garnet and Black Classic. Wisconsin-Milwaukee most recently lost to DePaul 3-2, whom Marquette will face in conference play later in the season.
The Panthers benefit from the ability to get scoring from different places. While the Panthers do not score very often, they have at least four players with a goal this season. Leading scorer and senior midfielder Morgan LaPlant has six points on the year, and closely following her are senior forward Kelly Lewers with five and freshman forward Sydney Senn with four.
Roeders said despite a low-scoring offense, the Panthers are still dangerous offensively.
"They do some stuff attacking wise where they can always try to expose you a little bit," Roeders said.
For Marquette, the goal will be to continue the effort that was started in Colorado. The team allowed a quick goal in its first game against New Mexico, but after it, the Golden Eagles played nearly 200 minutes with a clean sheet. Against the Panthers, it's another chance for the defense to keep getting better and work on not breaking down. And for Big East Defender of the Week Amanda Engel, this weekend provides another opportunity to get back to the stellar play in the net she displayed last season.
Roeders said the previous week was an improvement on the defense.
"Defensively, we just got to keep getting more sound, give off fewer chances, and I think we're doing better with that," Roeders said. "Defense, for us, has always been a team thing, so it starts with the attacking players."
Five players for Marquette have registered a goal. Sophomore forward Darian Powell has missed a third of Marquette's games and still is leading the team in points with four, tied with junior midfielder Jacie Jermier. Jermier, whose two goals both came off free kicks, should be a target for the Panther defense.
Roeders said the Golden Eagles need to get more minutes from its bench players to help the offense succeed.
"We got to really try to get more players to contribute still," Roeders said. "Coming off the bench, they can provide us 10, 15 minutes here and there, per half, just to create more depth."
The Golden Eagles will benefit from a weaker opponent, but the game will still be just as intense as other matches. Barring another major defensive breakdown, Marquette should start to build a solid foundation with just a few games until conference play.
Roeders said it will be a fun game, but the Golden Eagles are not underestimating the Panthers.
"Traditionally it's always a great match, always entertaining," Roeders said. "We've really gotten the better of them over the last couple of years, but again, that's not a guarantee."