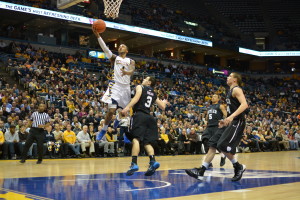 With players in foul trouble and Marquette in search of momentum, junior Todd Mayo put on his cape and once again played the role of the late-game hero Tuesday night.
Mayo scored all 17 of his points in the final 12-and-a-half minutes, and the Golden Eagles climbed back from 10 points down to beat Butler 69-62.
"I'm a streaky scorer," Mayo said. "I've just got to get in a good rhythm, and when that rhythm comes, I can't really be stopped."
Senior Jamil Wilson also scored 17, senior Davante Gardner had 13, and freshman Deonte Burton had 11 points and four steals. Marquette improved to 5-5 in the Big East with the much-needed win.
Kellen Dunham led Butler with 16 points as the Bulldogs dropped to 2-8 in the conference.
Mayo made pivotal shots in wins over Georgetown and Seton Hall this year. The junior made 7-of-10 shots and began his torrid offensive streak with a fast break three-pointer to cut the Butler lead to four with 12:31 to go.
Mayo traded baskets with Butler en route to scoring seven straight Marquette points to tie the game at 50. With four minutes to go, Mayo scored another consecutive seven to give Marquette the lead permanently.
"When the chips are down, for whatever reason, it seems as though throughout his career you can always count on him," coach Buzz Williams said.
Marquette was in desperate need of a scoring punch when Wilson, the only Golden Eagle in any sort of groove, picked up his fourth foul early in the second half. Senior Jake Thomas committed three fouls in the first, and Mayo even had three before his surge.
Marquette fell behind by as much as 10 when Elijah Brown nailed a jumper with 13 minutes left. Burton converted a three-point play the next trip down, and then Mayo followed up with his shooting spectacle.
The opening minutes were quite sluggish for both sides. The game was scoreless for the first four minutes until Gardner made a backdoor layup. The Bulldogs did not score until the 14:47 mark.
It was a tight first half nonetheless, featuring six ties and seven lead changes. Butler was ahead 25-23 at the break and used an 18-10 run early in the second to cushion its lead.
Butler's trap defense on Gardner and senior Chris Otule over the first 28 minutes created problems for the Golden Eagles, who were forced to shoot from the outside, an area of discomfort all season.
Bulldogs forward Andrew Chrabascz, a key figure in those double teams, was hit with his fourth foul with six minutes left, leaving Marquette with more room to breathe in the paint.
As a team that can normally take care of the ball, Butler committed 20 turnovers, which resulted in 15 Marquette points. Coach Brandon Miller was disappointed with how his team wasted possessions with needless mistakes.
"It was surprising, and we turned it over in a number of different ways," Miller said. "There were a number of times we had the ball at the basket, right around the rim, and got stripped, or were unable to come up with the basketball around the rim. I don't know how many times it was. It was too many."
Overall consistency has been a concern for some players this year, particularly Mayo. After scoring 19 points against Seton Hall last month, Mayo put up just 10 in the following two games. After tallying 18 points against Villanova, he scored eight total in the next pair of games. Williams appreciates his knack of coming through late, but wants to see more well-rounded outings.
"I think I have a pretty good feel for Todd," Williams said. "I think Todd's grown up a lot. I think Todd is misunderstood, partly because it's his fault, partly because it's the people that are judging him's fault. I wish he was more consistent. I don't necessarily think he's trying to be inconsistent, but if he can play like that and shoot 70 percent, that changes our team for sure."