This is part of a series of stories celebrating the 100-year anniversary of The Marquette Tribune.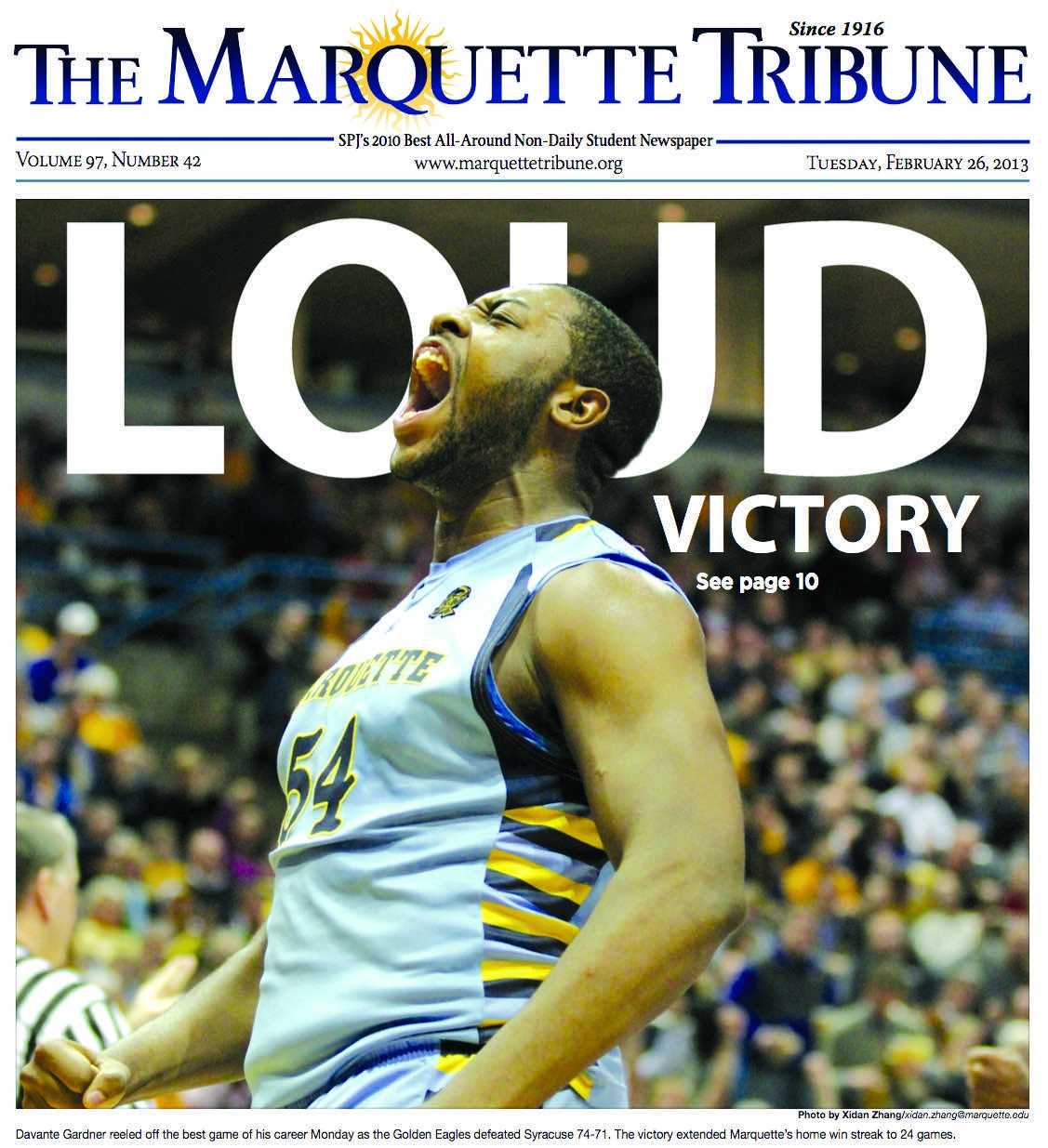 There was a time not long ago when Marquette fans would fill the BMO Harris Bradley Center to watch a then-nationally relevant men's basketball team take on top-notch opponents. On this date three years ago, the 22nd-ranked Golden Eagles upset No. 12 Syracuse, 74-71, en route to a BIG EAST regular season title.
On a chilly Monday night, more than 16,000 fans filed into the arena to watch ESPN's "Big Monday" matchup between the two teams tied with Louisville atop the BIG EAST. Marquette was coming off a loss at Villanova but riding a 23-game home winning streak, second longest in the country at the time. The Orange, then 22-5, were led by future NBA draft picks Michael Carter-Williams, Rakeem Christmas and Jerami Grant.
Center Davante Gardner was coming off a terrible performance against Villanova in which he scored just two points in 11 minutes.
"I know I didn't play well against Villanova," Gardner said. "I decided I'd play my best against Syracuse and try to get my team a win."
He played his best and then some. Gardner, who always garnered an "automatic" chant from the student section, dropped a career-high 26 points on 7-for-7 shooting and was 12-for-13 from the free throw line. The Golden Eagles collectively went to the free throw line a whopping 35 times, converting 29 attempts. The Orange shot just seven free throws all game. Marquette also out-rebounded Syracuse, 33-27, including 15 offensive boards.
"We scored enough points tonight, I just think our defense wasn't good enough, especially our rebounding," Syracuse head coach Jim Boeheim said.
These were different times for Marquette basketball. The on-court product was better, having been to four consecutive NCAA Tournaments, which led to greater investment from the fanbase.
"I think there was more energy and hope throughout the season compared to now," said Alli Borisek, a senior in the College of Business Administration. "It was more of a culture. If you didn't go to the game, that was unheard of. Now if you're not going, people just shrug it off."
The crowd reached its apex with 1:24 left in the first half. After trailing by as much as 11, guard Jake Thomas received a pass in the corner from point guard Junior Cadougan. The Bradley Center erupted, according to the 2013 Marquette Tribune game story, as Thomas nailed the three-pointer and was fouled by Grant. Thomas converted the four-point play, perhaps the crux of Marquette's season, for his first points since Dec. 22, 2012.
"The student section went crazy," said Mary Kate Ontaneda, a senior in the College of Communication. "I remember standing next to someone I didn't know and we hugged because we were so excited. That one play made all of Marquette fall in love with Jake Thomas."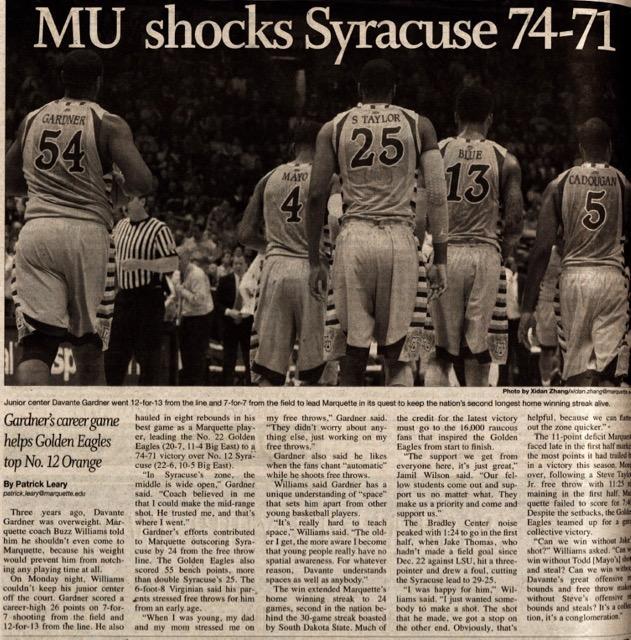 It took the Golden Eagles until 5:05 left in the game to take their first lead. Behind Gardner and two colossal three-pointers by guard Todd Mayo, the team used a 15-2 run to grow its lead as high as eight with 1:30 left. Despite a late Orange push, Marquette held on for a much-needed victory.
"Can we win without Jake's shot?" former head coach Buzz Williams asked afterward. "Can we win without Todd's shots and steal? Can we win without Davante's great offensive rebounds and free-throw makes, without Steve (Taylor)'s offensive rebounds and steals? It's a collection; it's a conglomeration."
Marquette went on to win its next three games to clinch a share of the BIG EAST title, its first in school history. The Golden Eagles were given a 3-seed in the NCAA Tournament, with which they reached the Elite Eight for the first time since 2003. They were knocked out by none other than Syracuse in a defensive slugfest and have yet to return to a postseason tournament.