As Pitchfork celebrates its 19th year, Union Park is preparing to welcome artists of various genres and sounds this summer. The official dates for Pitchfork Music Festival this year are July 21-23, hosting artists such as JPEGMAFIA, Weyes Blood, King Krule, Ric Wilson and more.
Here's what you need to know about this year's festival.
A Closer Look into Union Park
Union Park, located at 1501 W Randolph Street, is in the heart of the West Loop. The festival has three different stages distinguished by colors-red, green and blue stage. The red and green stages are right across from each other, while the blue stage is located towards the second entrance of the festival. There are four gates — two for general admission tickets and two for Pitchfork PLUS and #SmartTox ticketholders. Performances will be starting at 1:00 p.m. with the last artists of the day going on at 8:30 and ending at 9:50 p.m. It's recommended to bring a foldable chair or blanket to sit on.
One thing to keep in mind is that some performances will be running at the same time, although anyone is free to move around between the different stages because the festival is completely outdoors, and easy to navigate using Pitchfork's official festival map. this is a really long sentence. As for the headliners, those will not be clashing with any other performances, they are scheduled to begin later than every other act, leaving everyone time to get to their shows. This year's headliners — who will all be performing at the green stage — are, on Friday, The Smile, on Saturday, Big Thief and on Sunday, Bon Iver. The rest of the artists and performance times can be found using Pitchfork's official festival schedule.
Transportation
For travel, it is recommended by most people to utilize Chicago's public transportation system — the CTA, Amtrak, or the Metra; Uber and Lyft are also options. For those driving one can find parking structures online with all-day parking for as low as $15. SpotHero is a great resource that allows for booking a parking spot in advance.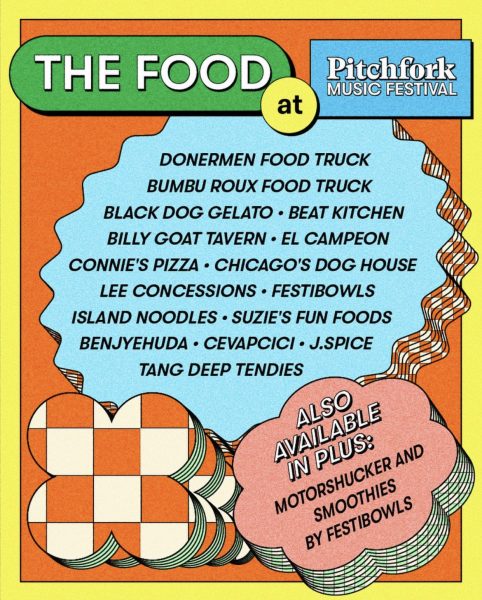 Food and Drinks
Inside the festival, there are a many different kinds of food trucks and stands to choose from — most of them being from local restaurants — just a few steps away from Pitchfork's Blue Stage. A few restaurant names you may recognize are Beat Kitchen, Chicago's Dog House, Island Noodles and more. Additionally, Häagen-Dazs will be giving away free ice cream all three days of the festival.
As for drinks, there is everything from alcoholic to non-alcoholic beverages, varying in price. Water is free at Pitchfork, with a filling station near the restrooms.
When do the gates open?
The gates are set to open at 12:00 pm each day. Upon entrance, you can expect to be greeted by security guards who will verify tickets as well as a form of valid photo identification. Attendees will also be expected to empty their pockets upon arrival, as the festival reserves the right to search anyone upon request. Small purses and bags are allowed but will be inspected. Some prohibited items include photo equipment, umbrellas, skateboards and any outside food or drink of any kind. See Pitchfork's full list of prohibited items here.
This story was written by Sofía Cortés. She can be reached at [email protected]