Review: Ed Sheeran's '=' reflects artist's new experiences as husband, father
With past hits like "The A Team," "Thinking Out Loud," "Shape of You" and many others throughout his career, singer-songwriter Ed Sheeran has shown  he can write songs for almost any audience. Sheeran's newest studio album, "=," which released on Oct. 29, also follows this trend as the solo artist's signature acoustic sound meets an 80s pop beat that is new to listeners of Sheeran's past work.
After the release of 2017's widely-popular and successful  "÷," the third installation of his mathematically titled albums, Sheeran returned in 2019 with "No.6 Collaborations Project." The album featured collaborations with some of today's biggest names in music and crossed genres with artists like Justin Bieber, Chris Stapleton, Chance the Rapper and many others.
In December 2019, the UK native took to Instagram to tell fans he was taking a break from music and social media. 
"I promise I'll be back with some new music when the time is right and I've lived a little more to actually have something to write about," Sheeran said. The artist returned briefly to social media in September 2020 to announce the birth of his daughter, Lyra Antarctica Seaborn Sheeran with his wife Cherry Seaborn.
Now, having two years of marriage and a year of fatherhood under his belt, Ed Sheeran has followed through on his promise. "=," while similar to his previous works ("+," "×" and "÷"), offers a new level of maturity and the smallest hint of growth in the artist's repertoire.
The track list consists of 14 tracks. "Tides," the opening song on the album, launches the record in the right direction and introduces audiences to the changes that have occurred in Sheeran's life while he has been away from the spotlight. And he doesn't shy away from those changes, he embraces them.
The opening line of the song proves just this as Sheeran sings, "I have grown up, I am a father now / Everything has changed, but I am still the same somehow." The song is a reflection, a nostalgic journey through Sheeran's past discography; it is a diary of who he was and who he has become over the past couple of years as he has embraced the roles of husband and father.
A few tracks really stand out on the album, namely the most pop-ish tracks "Shivers" and "Overpass Graffiti." Both songs drift away from Sheeran's acoustic sound and lend themselves to a more electronic beat.
While there are brief notes of electronic influence, Sheeran's lyrics and voice are constant and unchanging. "I know time may change the way you think of us / But I'll remember the way we were / You were the first full-stop love that will never leave / Baby, you will never be lost on me," Sheeran's sings on "Overpass Graffiti."
The album, overall, is special in that listeners can tell that it truly came from his heart. While not anything totally new as an album, Ed Sheeran delivers a record that he can be proud of, and that fans will enjoy listening to. The themes of fatherhood and love are heartwarming, but at times can be too repetitive and may be a bit difficult to relate to for audience members who have not had the same life experiences
Out of a 10-point rating, I would give Ed Sheeran's "=" a 7.5 out of 10. Stand out songs include "Bad Habits," "Stop the Rain" and "Be Right Now."
This story was written by Kim Cook. She can be reached at [email protected]
Leave a Comment
About the Contributor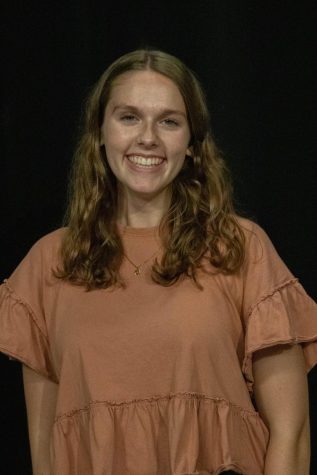 Isabel Bonebrake, Chief Photographer
Isabel is the Chief Photographer for the Marquette Wire and oversees the photo desk. She is a junior from Frankfort, IL majoring in journalism and minoring...