This is the story of Christina Curtis, a junior in the College of Health Sciences, as told by Sydney Czyzon.
It can be difficult having a silent illness.
During my freshman year, I begin noticing myself getting out of breath quickly after climbing the stairs or working out. But since I got diagnosed with lupus a year earlier, I assume it's that.
Over time, things get worse. Walks to class aren't easy anymore. I have to stop at benches throughout campus a few times during my walks, trying to catch my breath. I look at all the students walking by me, and I think about how lucky they are.
A lot of times, other students open doors for me. No one questions me when I wear surgical masks to class to avoid getting sick.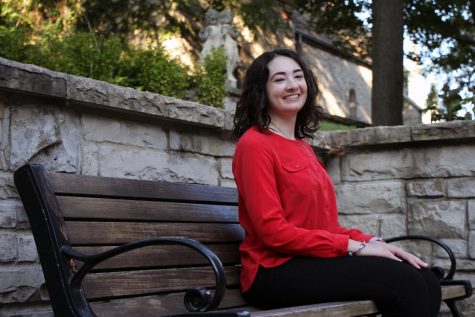 But other students aren't as nice.
Since I can't wear an over-the-shoulders backpack because of my breathing, I get a rolling backpack. One day on the elevator at Cobeen, I press the number three for my floor.
A girl in the elevator takes a Snapchat photo of it. She can't believe I'm not taking the stairs, even though there is no way I would make it up with my breathing and rolling backpack.
I should say something, but I don't. I just walk to my room. She can't see that I'm struggling, even though I really am.
I learn to deal with it. You do what you have to do.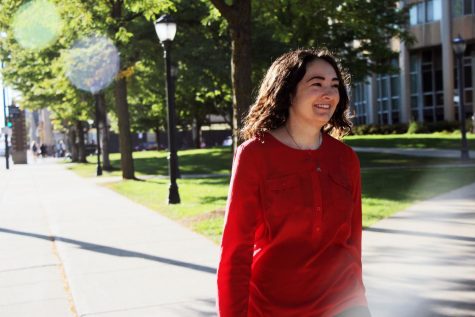 Before finals week freshman year, I get really sick. I cough so hard I tear a hole in my lung and break two ribs. I find out I have subcutaneous emphysema, which feels like air bubbles under my skin.
Things get worse sophomore year. I get pneumonia in the fall, and everything goes downhill.
I get diagnosed with bronchiolitis obliterans, a disease that causes inflammation in my lungs and blocks my airways. My doctor recommends getting tests done to get placed on the lung transplant list. I don't want to do the tests, but I figure I'll do them just in case I get sick again and can't recover.
At the end of sophomore year, my lung function is at 13 percent. Doctors tell me I will need an oxygen tank at all times, even at rest.
I start losing a lot of sleep, and at a doctor's appointment, a nurse notices my appearance. I'm admitted to the hospital by the doctor. The hospital's lung transplant team meets and decides to officially place me on the lung transplant list.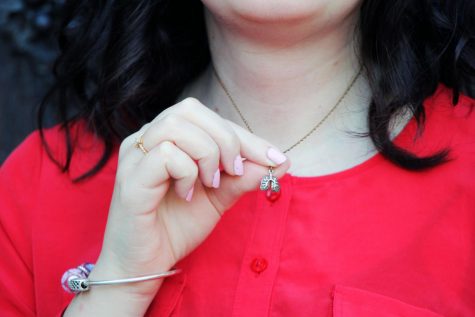 I become the first person on the list for my O positive blood type, height and antibodies. The nurses tell me the call for a transplant could come at any time. I keep my phone by me at all times, always asking who is calling whenever it rings.
I start making a mini bucket list of things I can do after I get my transplant, like play with my dog, go clothes shopping at the mall or ride the Ferris wheel at Navy Pier.
Then, after midnight one day, I get a call that new lungs are ready. I'm nervous and excited, but I try to stay calm.
I get to the hospital, and hours later, I'm on the operating table. I have an IV in my arm, and nurses around me prepare for the operation.
Then, the doctor comes in. He says the lungs are bruised and can't be used.
I'm disappointed, my family is devastated and I start to wonder if I'll ever get lungs. I go home and anxiously wait for another call.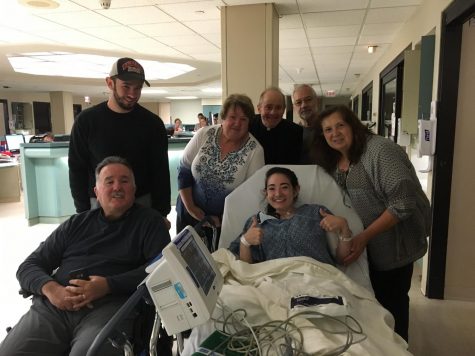 A couple weeks later, I get another call in the afternoon. The nurses tell me they have lungs for me.
This time, I'm prepared. My family and I drive to the hospital, and we wait days for word from doctors. They eventually tell us the donor still has brain activity.
People around me complain about the wait, but I think of the donor and their family. Even though I'm getting lungs, the donor's family is just starting the grieving process.
The nurses tell me the surgery will happen. They take me into operating room 27, my lucky number. It's the date of my birthday, my dog's birthday and my brother's birthday.
Nurses put an IV in my arm and administer anesthesia. Doctors take 12 hours to replace my right lung, then my left lung.
After the surgery, they put me on a ventilator. The nurses ask my parents what music they can play me to wake me up, and of course my parents say Ed Sheeran. I wake up and say hello to my family.
I begin recovering quicker than normal, doing hospital exercises and taking antirejection medication to make sure my body doesn't reject the donor's lungs.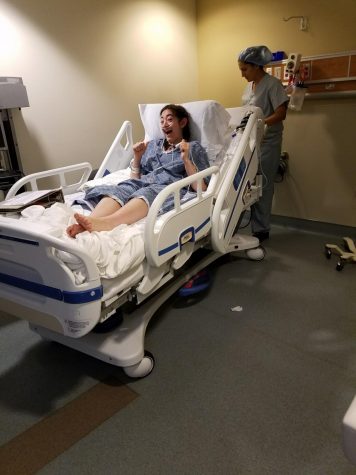 But right before I'm about to leave the hospital, I start getting delusional. I develop something called serotonin syndrome from the antirejection medication. I start to think people in the room are mimicking me, that I'm going to need a whole-body transplant and that people are lined up outside my hospital room.
The nurses switch me to a different medication, and I'm back to normal in a few days. They tell me I can go home.
I get a fever after going home, and I'm back to the hospital. They give me antibiotics through PICC lines for a few days. Eventually, I go back home and start the recovery process.
My mom has to learn to put PICC lines in my veins. I have to go to regular doctor's appointments for tests and check-ups, and I have to swallow about 50 pills a day.
Right before the one-year anniversary of my lung transplant, my 21st birthday comes. I ride the Ferris wheel at Navy Pier.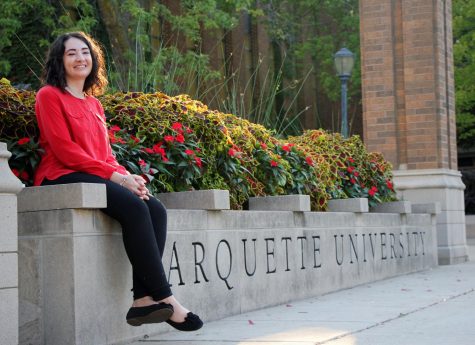 I look back at where I was a year ago. I never thought I'd be feeling as good as I am now. When you're that sick, you don't think you'll ever get better.
For my transplant anniversary, I ride my bike 5.5 miles through the forest and eat chocolate cake with my family and friends.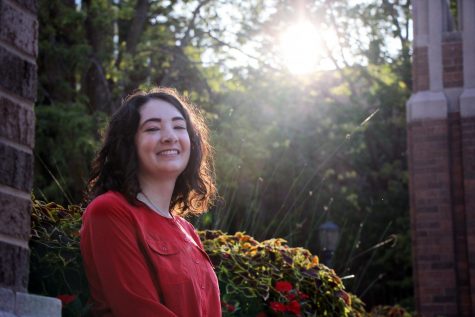 After taking a year off school for the transplant, I'm back to walking on campus.
I danced since I was 3 years old, but couldn't when my breathing got worse. Now, I'm dancing again in Dance Inc., and I'm going to be a lector at the Church of the Gesu.
I'm studying to be a health psychologist so I can help other people adjust to their new normal, just like I did.