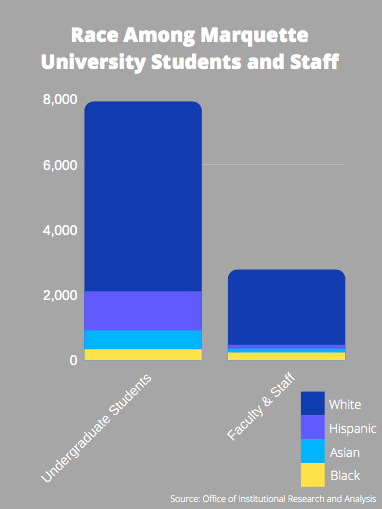 With prevalent systemic racism and discrimination on campus, Marquette University must ensure it supports and listens to Black students by taking deliberate steps to follow through with its commitments to them. 
After a demonstration led by Black students Aug. 27 and a Sept. 3 meeting with the administration to discuss ways to improve Black students' experience at Marquette, the university announced numerous ways it will be supporting Black students. These steps include the Counseling Center hiring its first counselor and coordinator for Black students, changing the Marquette Core Curriculum to include issues related to racial justice and Black Student Council being granted representation on the University Board of Undergraduate Studies and the Committee on Teaching, which is a subcommittee of the University Academic Senate. 
Additionally, the university has agreed to add 40 four-year, full-tuition scholarships every year beginning fall 2021 for high school graduating seniors around Milwaukee. 
The university has also agreed to establish a permanent cultural center for Black students, increase financial support for Black students, create a Committee for Black Student Initiatives to increase recruitment and retention of Black students and recruit more Black faculty, resident assistants and Black-owned businesses to campus. 
Black Student Council will also have regular meetings with the Marquette University Police Department. The university has also agreed to review university policies dealing with hate speech and racist behavior, work towards establishing a Black Living Learning Community in a residence hall and consult with BSC to provide training for students, faculty and staff relating to bias, harassment and discrimination faced by minorities on campus. 
While the university must be commended for its discussions and efforts to support Black students on campus, it is imperative that it follows through with these promises on all fronts to address inequity and discrimination on campus. 
With 5,821 white, 1,200 Hispanic and 577 Asian students compared to 333 Black undergraduate students during the fall 2019 semester, according to the Office of Institutional Research and Analysis, providing financial support through scholarships as well as ensuring that retention and recruitment rates improve for Black students is essential to creating more equity. 
Additionally, there were only 233 Black, 119 Asian and 116 Hispanic faculty staff members compared to 2,307 white faculty and staff members during the 2019 fall semester. 
The Wire editorial board does not have any Black staff members, and we would like to acknowledge that we do not have the same perspective or experiences as Black students on campus. However, we feel it is important to create an environment and community that Black students feel safe and welcomed.
Hiring more faculty and staff of color is essential to making sure Black students feel represented and comfortable with the faculty and staff they interact with on campus, as their white counterparts may not be able to share similar lived experiences or teach issues of racial injustice with first-hand experience that is needed to fully understand the situations. Assistant professor of philosophy Stephanie Rivera Berruz said in an open letter to Marquette she agrees that increasing the number of faculty and staff of color is important.
Berruz said, "Our faculty should reflect the place we live and the students we vow to serve. Where is the racial diversity of Milwaukee represented in your faculty?" 
Working to provide more spaces for Black students on campus — such as adding a Black Living Learning Community and a permanent cultural center — is also important for Black students to feel comfortable and accepted at a predominantly white institution like Marquette. 
Last fall, the Office of Engagement and Inclusion — previously known as the Center of Intercultural Engagement — combined the Center for Engagement and Inclusion, the LGBTQ+ Resource Center and Campus Activities and Student Involvement.
Though vice president for student affairs Xavier Cole said this decision was made to develop more leadership and a focus on diversity and inclusion, these offices provided specific resources for different underrepresented groups on campus. 
According to its website, the Center for Engagement and Inclusion aims to provide a space for underrepresented and minority populations, multicultural student organizations and programming focused on different issues like social justice advocacy and inclusion across campus. 
Combining those offices minimized the care and resources that could be given to Black students, as now there is only one full-time staff member for cultural engagement programs and services.  
The university must ensure that it works with BSC to develop trainings, change the core curriculum and review policies dealing with discrimination and racist behavior among students. The university's efforts to address racism on campus must be extended to students, faculty and staff, as these issues must be confronted on all levels at Marquette. 
Black students should not feel uncomfortable or unwelcome at Marquette because there are not enough resources or support systems for them.
Working toward a more equitable and safe campus environment, specifically for Black students, is not optional and must be taken seriously, with commitment and deliberation. 
Marquette must continue to listen to Black students and ensure that it is consistently and consciously aiming to be a better campus. The university must make real, deep foundational change in order to truly create a better environment for Black people, and that begins with following through with its commitments.
In addition to the university improving upon its diversity, the Wire must also amplify Black voices on campus within our own staff. Moreover, with a predominately white staff, we acknowledge that we must also actively counteract biases that white journalists can bring. We are having consistent conversations with our staff and reaching out to groups on campus on how to amplify and connect with underrepresented students.
Addressing systemic racism and discrimination must come from all sides, and we must do our part as well.
---
Editorial topics by the Marquette Wire are decided at weekly meetings between members of the executive board. The editorial is crafted with leadership by the executive opinions editor. The executive board consists of the executive director of the Wire, managing editor of the Marquette Tribune, managing editor of the Marquette Journal, general manager of MUTV, general manager of MUR and nine additional top editors across the organization.