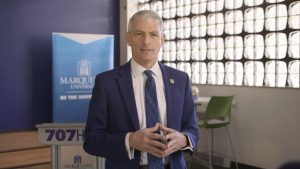 Although Marquette University should be commended for its efforts to address racial inequality on campus, there are still many steps to take to ensure it follows through with its commitments to support students of color on campus. 
In Marquette University President Michael Lovell's seventh annual presidential address Feb. 4, he discussed multiple ways in which the university is working to improve the experience of Black students on campus. 
Lovell announced that in working with Black Student Council, Marquette would be increasing its number of urban scholarships by 40, making changes to the university Core Curriculum to address racism and racial inequality and implementing an online training for faculty and staff to address diversity and implicit bias. 
Additionally, he said the university would be launching a fundraising campaign to increase scholarships and housing funds for Black students. Lovell also said Marquette opened a Black cultural center in Humphrey Hall and formed a Committee for Black Student Initiatives at the beginning of this semester. 
Moreover, Marquette is in the process of hiring a director of Black Student Initiatives and opening a Living Learning Community for Black students. 
These are all positive steps toward addressing inequalities on campus as well as striving to prioritize Black students' success. 
The university has also made other efforts to support Black students on campus this year. 
Marquette has followed through with its commitment to the diversity of counselors at the Counseling Center by hiring Shakari "Kari" Lewis at the beginning of the fall 2020 semester,  the first counselor and coordinator for Black student support. 
These university actions come after a June 29 march to a Milwaukee Police station, demonstration led by Black students to protest against racial injustices in Kenosha, Wisconsin, and a sit-in at Zilber Hall where the administration was presented with a list of demands to support Black students on campus Aug. 27, as well as efforts made by Black Student Council last summer to meet with administration to implement changes at Marquette. 
Marquette must continue to work with Black students to make sure their voices are heard and that their input is taken seriously. 
While these changes are improving campus community for Black students, the university must make efforts to support other groups of color on campus, as well. 
The Native American Student Association held a protest Oct. 20 to call upon the university to support Indigenous students on campus. The organization presented administration with a list of demands, including changing the university seal as well as providing full-tuition scholarships for Indigenous students from Milwaukee Public Schools and the Wisconsin Tribal Nations. 
Two weeks later, NASA held a sit-in Nov. 4 in Zilber Hall to directly speak with Lovell. However, the group was met with other administrative leaders. 
Additionally, Provost Kimo Ah Yun said during his Sept. 29 Virtual Coffee Chat that being a Hispanic Serving Institution would no longer be part of the university's strategic plan.
Being an HSI would mean that 25% of enrolled undergraduate students would identify as Hispanic or Latinx.
Other groups on campus need support from administration.
Marquette has a responsibility to follow through on their previous promises while also listening to and supporting the issues of all students of color, and it needs to make a better effort to do so. 
While Marquette's recent efforts to support Black students is a positive step, in order to be truly inclusive, the university needs to make sure it takes necessary steps to support all students experiencing struggles on campus.
---
Editorial topics by the Marquette Wire are decided at weekly meetings between members of the executive board. The editorial is crafted with leadership by the executive opinions editor. The executive board consists of the executive director of the Wire, managing editor of the Marquette Tribune, managing editor of the Marquette Journal, general manager of MUTV, general manager of MUR and nine additional top editors across the organization.