Rose plays integral role in No. 15 Marquette volleyball's success
Sophomore setter Sarah Rose knew head coach Ryan Theis and his coaching staff long before she ever stepped foot in the Al McGuire Center.
Theis recruited Rose's older sister, Caroline, several years ago while at Ohio University. But Caroline chose Western Michigan University over the Bobcats.
Now that Rose has been in a Marquette uniform for two seasons, she has provided Theis a versatile option in the back line.
When Theis first recruited the younger Rose sister, he was looking for a setter that could also play defensive specialist. The American Volleyball Coaches Association All-American nominee fit the bill.
"We were looking for that kind of special person and Sarah fit," Theis said.
Rose led her team to a 2016 regional championship and sectional semifinal. She tallied 2,605 assists and 865 digs in her high school career at York Community High School in Elmhurst, Illinois.
Her versatility was on display Oct. 27 during the Golden Eagles' sweep over Providence when senior Anna Haak was injured. She finished the set second on the team in digs.
As a setter, Theis said Rose puts hitters in good positions and is an efficient defender. She averages 1.56 digs per set.
"If people hit it back there, there's a good chance she's going to dig it," Theis said. "She's a really calming presence, which is helpful for hitters as well."
Rose has not always been very confident. As a freshman in 2017, Rose had 33 digs, or 0.73 digs per set. This season, she has quadrupled those stats.
Assistant coach R.J. Lengerich said Rose has had to work on her defensive game over the past two years, and that is one aspect of her game that is at a higher level than ever before in her career.
"The biggest improvement she's made is her defensive game. I'm just seeing her dig balls that she just didn't dig in the past because of fast hands," Lengerich said. "Not only has she gotten better because of things she's done in practice, but because of the extra work she's put in on top of that."
"Recently, defense has been a lot different for me," Rose said. "Being more disciplined on defense is a huge change I've made."
However, her trademark on the court has been a serve coaches call the "Sarah Rose." This occurs whenever she serves the ball extremely short, catches her opponent off-guard and records an ace.
"Her serving game has become outstanding. She is one of the best point scorers on our team," Lengerich said. "She's become one of the more feared servers in the league and on our team."
Rose has gone from three aces in 2017 to recording 28 of the team's 175 aces this season. She is tied for third place on the team for most service aces with fellow sophomore Martha Konovodoff.
Her short saves have helped the Golden Eagles rank fourth nationally with 1.79 aces per set.
"What she brings to the team is a lot of confidence," Lengerich said. "She's not easily rattled. She understands where to move on the court."
The 5-foot-7 setter went from only playing 45 sets out of 116 last season to playing in every set this season. Rose is second on the team with 505 assists.
"When she's in as a setter, she's just really distributing smart sets that's allowing our offense to be … top five in the country in most statistics," Lengerich said. "None of that happens without the person handling the second ball."
Marquette did not accomplish Rose's goal of winning a BIG EAST Championship. Instead, the Golden Eagles received a No. 14 overall seed in the NCAA Tournament.
"It's a huge responsibility but it's also a great thing to be a part of," Rose said. "(The hitters) help make me seem like a better player, but sometimes I wouldn't be able to set if the defense couldn't get the ball up, and no one would get kills if I didn't have my hitters. … I'm super lucky to be a part of this team."
Theis and Lengerich said they have high expectations for Rose for the remainder of the 2018-'19 season.
"She works with Meghan (Keck) as her setting coach quite a bit. When they watch film, they're looking at what percentage of sets were good sets, what percentage of sets were killable balls, where our hitters are in good situations to score," Theis said. "We'd love nine out of 10 balls out of her hands to be somewhere where a hitter can kill it."
Rose's impact spans far greater than just the volleyball court.
"I enjoy being on the road with her and joking around with her and seeing her development as a player," Lengerich said. "In general (she's) a really cool person and fun person to hang out with, great family and really down to earth."
Rose said she never expected she would play volleyball at Marquette, but now she's an essential player suiting up for one of the most elite programs in the nation.
"I definitely did not expect (Marquette) to be my first choice," Rose said. "As soon as I came on campus, I fell in love. … When I got here, I had that feeling that this is where I belong."
Leave a Comment
About the Contributor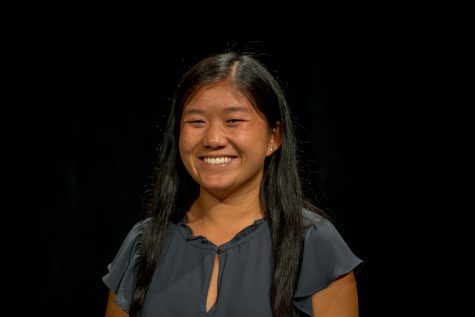 Zoe Comerford, Executive Sports Editor
Zoe Comerford is the Executive Sports Editor for the Marquette Wire. She is a senior from Naperville, Illinois, majoring in Journalism and Digital Media...