Volleyball falls at No. 3 University of Illinois in NCAA Tournament
Marquette's (28-7, 15-2 BIG EAST) first trip in program history to the NCAA Tournament Round of 16 did not go exactly according to plan, falling in straight sets to the No. 3-seeded University of Illinois Fighting Illini (25-19, 25-21, 25-16) at Huff Hall in Champaign, Illinois.
"It was fun to be in front of so many fans and feel the energy of the environment even if a lot of fans were cheering against us," junior Allie Barber said. "We knew even at 11 a.m. they'd have a lot of fans there, and they didn't disappoint."
Illinois came out firing in the first set and jumped out to an 8-2 lead. Though Marquette struggled blocking the Fighting Illini, at one point the Golden Eagles cut their deficit to 16-14. With Marquette trailing 21-17, head coach Ryan Theis took a timeout, but those efforts didn't help much, as Illinois won the first set 25-19.
"We needed to play our best to be in it," Theis said. "I didn't think we had it from the service line. I thought we left a few too many opportunities out there to beat No. 3."
Junior Jacqueline Quade ended the first frame leading both teams with eight kills, hitting at a .538 clip. The Fighting Illini finished with a collective hitting percentage of .552. Meanwhile the Golden Eagles only capitalized on 14 of 34 kill attempts.
"Anytime that one of the (Marquette) hitters starts off strong, that gets their defense really honed in on that one person," Illinois senior Jordyn Poulter said. "They started making adjustments to cheat out to one pin or the other. Once we are able to recognize that, we kind of (went) against the flow."
The second frame was tied seven times, but Marquette still struggled to find corners of the court. Illinois had an 11-7 lead before kills from Barber and senior Anna Haak tied the set. A bad set from Marquette sophomore Martha Konovodoff eventually gave the Illini a 25-21 win in the second set. Illinois only hit .265 in the second set while Marquette served a little more consistently.
"When we were able to get pressure on them from the service line, they became significantly more defendable," Theis said.
The Golden Eagles just couldn't compete against the Fighting Illini's powerful offense in the third set, losing 25-16.
After a quiet first set, Barber found her groove in the second and third set, scoring 11 points between those two frames.
"(I) just stayed mentally focused and knew that things would click eventually," Barber said. "They're a lot higher on the block than we're used to, so adjusting to that took a little bit of time."
Barber led all hitters with 14 kills, hitting at a .379 clip. Redshirt senior Jenna Rosenthal and sophomore Hope Werch tied for second on the Golden Eagles' squad with seven kills apiece. Junior Lauren Speckman had a team-high 19 assists, and Konovodoff recorded a match-high 12 digs. It was the final game for Rosenthal and Haak, who are both seniors.
"Jenna had a great night. I thought she had a presence at the net," Theis said. "They put a lot of service pressure on (Anna) early and I think she really handled it and kind of helped our offense get going."
Illinois head coach Chris Tamas is especially familiar with Rosenthal's threat to defenses. He coached her in China on the Collegiate National Team last summer.
"She's a very good player and loves the sport of volleyball," Tamas said. " She's going to have a nice career after this."
Five years after she began as a Golden Eagle, Rosenthal ended her career with the team's deepest postseason run in program history.
"I can't say it enough that they worked so hard for so long, every single on of us, to be able to do what we're doing right now," Rosenthal said. "That attitude and that fire is only going to carry us farther in the future, even if I have to go my separate ways."
Theis probably won't be forgetting this team any time soon.
"This group is just terrific. I feel incredibly honored to be able to work with these guys," Theis said. "It kind of makes going to work everyday fun. … I hope they're having a great experience because they're sure giving me one."
Leave a Comment
About the Contributor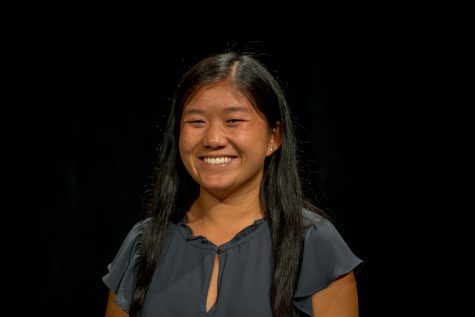 Zoe Comerford, Executive Sports Editor
Zoe Comerford is the Executive Sports Editor for the Marquette Wire. She is a senior from Naperville, Illinois, majoring in Journalism and Digital Media...