Volleyball primed for tough match at No. 3 Fighting Illini
Marquette had only four days to prepare for No. 3 University of Illinois, but Marquette is confident heading into its first Round of 16 appearance in program history.
"We had a nice week of practice," head coach Ryan Theis said. "It's a lot to flip around and leave for a road trip right away. … We're ready to get on the road."
The Golden Eagles say they are preparing for the game like any other game.
"That's the thing I'm really excited about with this team is that we have done the same stuff we've been doing as we prepare for any opponent," redshirt senior Jenna Rosenthal said.
The Fighting Illini (30-3) come into this matchup on a 15-match winning streak with a 13-2 record at home. Theis said the team collectively doesn't have many weaknesses and his team's game plan is handling Illinois' speed.
"You have to be good on offense and defense against these guys," Theis said. "You have to serve well. You have to fight off service pressure. You have to get some stops, some blocked touches to slow it down."
One of the Golden Eagles' strengths all year has been their serving abilities, as they are ranked 3rd nationally with 1.9 aces per set. But Theis said the Illini's senior setter Jordyn Poulter is the player Marquette wants to contain.
"(Jordyn) has a pretty good chance of being First Team All-American," Theis said. "She can get the ball to hitters quickly. Without a doubt (she's) the strength of their team."
Throughout the season, Illinois limited its opponents to a hitting percentage of only 0.156 while Marquette finished the year averaging 14.8 kills per set. The Golden Eagles need to be firing on all cylinders offensively if they want to give the Fighting Illini's defense some difficulties.
Since they play a rare 11 a.m. game Friday, Marquette's schedule for the next two days does not allow for much study time. The Golden Eagles plan on going out to dinner and a having a team movie night for possibly the last time this season.
"Similar to other road trips, we'll practice tomorrow, have a nice dinner, relax (and) get ready for the match," Rosenthal said. "It's a little weird because it's a late morning game. …We're excited for that because we don't have to sit and wait all around all day for the match."
After Washington swept No. 9-seeded Creighton last weekend during the second round, the Golden Eagles are the only BIG EAST team left in the postseason. They have the pressure of representing the conference in the NCAA Tournament.
"It's more exciting to be able to go into somebody's house," Rosenthal said. "We'll be able to go and show them what the BIG EAST and what Marquette is made of, and maybe surprise some people."
Marquette has been favored to sweep teams for the majority of the 2018-'19 season. Besides the conference tournament, this matchup will be the first time all year the Golden Eagles' aren't expected to win in straight sets. But that doesn't seem to faze Theis's team.
"The team's excited for a shot at Illinois," Theis said. "Illinois earned one of those top four spots and a chance to be at home, so you're going to be playing at the favorite's gym."
Though Friday's game is the first matchup for the Illini and Golden Eagles, it will be a reunion for Illinois' head coach Chris Tamas and Marquette's 6-foot-6 middle blocker Jenna Rosenthal. The two traveled to China together this past summer with the Collegiate National Team roster.
"Chris is a really cool guy," Rosenthal said. "Those USA tours really show you that everyone's the same as you. … Everyone's trying to win. Everyone's trying to do something awesome and that really brings more credit to the entire sport."
Friday may be Rosenthal's final match suiting up in blue and gold, but she said she couldn't be happier with her senior year.
"I am just so overwhelmingly excited to be able to do this and go farther than any Marquette team has ever gone with the girls surrounding me," Rosenthal said.
Leave a Comment
About the Writer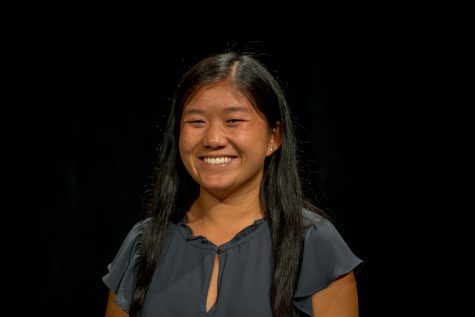 Zoe Comerford, Executive Sports Editor
Zoe Comerford is the Executive Sports Editor for the Marquette Wire. She is a senior from Naperville, Illinois, majoring in Journalism and Digital Media...