Rosenthal applies Collegiate National Team program experience to final season
Redshirt senior Jenna Rosenthal said she never thought she would be playing Division I volleyball a decade ago, let alone traveling internationally for three years with the Collegiate National Team.
"When you look around at the training center in the first opening meeting, you see 250 other people with dreams just like yours," Rosenthal said. "It's an honor to say that, 'Hey this could be a future for you.' It shows you a potential path."
Sixty players are selected each year after tryouts for the Collegiate National Team program. Rosenthal said two rosters of 12 players traveled. A first team travels to China, and the second team travels to Europe.
"Everyone's very close at this level," Rosenthal said. "At this point, we're all interchangeable, so it's just going to be different on who can learn the most the fastest."
The other 36 players, making up three separate teams in the CNT system, head to a domestic training program. Rosenthal was involved in that program her first year with the CNT in New Orleans.
In 2015, Marquette head coach Ryan Theis encouraged Rosenthal and then-teammate Taylor Lewis to travel to Colorado Springs and try out for the program at the Olympic Training Center, as it would be beneficial to play against elite-level competition. Rosenthal said she never thought she would make the cut.
"I was like, 'No way.' I didn't think that was possible," Rosenthal said. "(Theis was) like, 'Hey just go see what happens, have fun and enjoy the experience.' I thought it was great. … Then I got the email that I could play more volleyball in a USA-type context and I was just thrilled because I did not expect that at all."
That trip to New Orleans was Rosenthal's first experience traveling with a volleyball program. Growing up, she was never on the radar for volleyball recruiting. Theis noticed her at a Marquette camp, and then his staff offered her a scholarship.
"I was a really late bloomer," Rosenthal said. "I never knew that club volleyball existed until I was like 15. At that point, everyone's been playing for like three years."
Rosenthal's travel opportunity was especially important because of NCAA limitations on how much Theis' staff can work with players in the offseason. From December to March, players only receive 16 total hours of Marquette coaching. From the end of April until early August, the team cannot work with Theis' staff.
Those who want to play professionally likely need to either join an international program or prepare individually, so Rosenthal got involved with the CNT program.
This past summer, Rosenthal traveled with the program's China tour. Also on the roster was fellow BIG EAST outside hitter Taryn Kloth and Wisconsin middle blocker Dana Rettke.
With the competitive atmosphere in the NCAA, Rosenthal said playing with those from different teams provided a fun dynamic on the court.
"Who knows, we could end up on the same professional teams in the future," Rosenthal said. "It helps you kind of put the game in perspective again. You're all just the same, trying to do something awesome and that's, in and of itself, something special."
According to the USA Volleyball website, the team finished 4-1 overall against teams in the Chinese Volleyball League.
There were two players during her time with the CNT that stood out as role models for Rosenthal. First was Morgan Heise, a libero for Southern Methodist University from 2013-'16.
"She had a really intense passion and fire — always asking questions, always wanting more reps (and) always wanting to improve," Rosenthal said. "She just reminded me that that's the kind of intensity you're going to need moving forward."
Cori Crocker, a middle blocker from University of Michigan, also had a big impact on Rosenthal.
"She was just loud. She was having a great time," Rosenthal said. "(She was always) reminding me to exult in the joy of playing because we're doing something that not everybody can do."
Rosenthal said she's trying to use her CNT experience to lead Marquette by example. As of now, Rosenthal is the only current Golden Eagle to travel with the CNT program.
"I was never one to be able to take the loud, argumentative-type leader style," Rosenthal said. "As time's progressed then I think the other girls have come to look to me because, 'She probably knows what she's talking about. She's been here for five years.'"
Both Theis and the middle blocker said they know Rosenthal has a future playing professional volleyball after her graduation in December.
"No matter how much you think about it and how much these things prepare you for professional life, it kind of just helps you think about what it's going to be like being dropped in another country with people you don't know for eight months," Rosenthal said.
As long as she can stay healthy, Theis said he believes she has a long career ahead of her.
"Playing Division I volleyball for a scholarship was such a foreign concept when I was in high school," Rosenthal said. "So playing professionally in Europe was alien freshman year. … I've been able to make good connections and we'll see if that pans out."
Rosenthal is averaging over five points a game this season, which Theis said is extremely high for a middle blocker.
"Her blocking presence is a lot for opponents to handle," Theis said. "She gets a ton of quality touches that make defense a little bit easier. I think offensively, she's been more consistent this year than last year."
Theis said he wants to see her be an All-American this year, and Rosenthal is not shying away from those expectations.
"I don't think I've hit my peak yet," Rosenthal said. "The ability to keep getting better is something that I really am proud of."
And she is continuing her development on the roster that is ranked No. 19 in the AVCA Coaches Poll. That is the highest in program history.
"This is the best team Marquette has ever had, and I'm so excited to go farther than any Marquette team has ever gone with my teammates," Rosenthal said. "Yes, I have this future in front of me, but I'm just so happy to come back to home to my team at the end of the travels."
And Theis said it wouldn't be possible without Rosenthal's leadership.
"She's a huge part of the successes we've had," Theis said. "She's gone through a lot and is proud to be a part of Marquette, and that's why we love her."
About the Contributor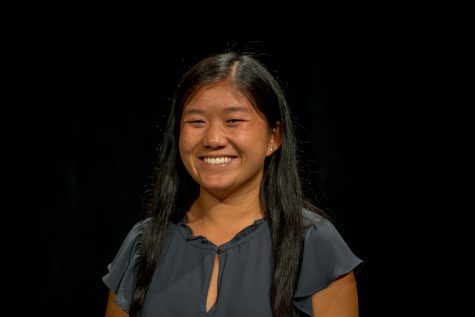 Zoe Comerford, Executive Sports Editor
Zoe Comerford is the Executive Sports Editor for the Marquette Wire. She is a senior from Naperville, Illinois, majoring in Journalism and Digital Media...