Women's volleyball adjusts to new protocol
Marquette women's volleyball became one of the many fall sports that were postponed by the BIG EAST due to the continued rise in COVID-19 cases Aug. 12.
Women's volleyball head coach Ryan Theis saw that with the ever-changing schedule and adjustments, it was only going to be a matter of time before the season was shut down completely.
"It was a long time coming," Theis said. "We wanted to hold out if possible, but when the numbers started spiking it kind of sealed the fate of the season. It doesn't make sense to have (the) teams traveling."
Even though team members have been in frequent communication with each other since students were told not to return after spring break, Theis spoke with the team after the news came through.
"(There was) no sense of outrage," Theis said. "Our team is very understanding … The numbers (of cases) are high and it's not in the best interest (to play)."
For senior libero Martha Konovodoff, it took some time for the news to sink in.
"At first it didn't hit all of us too hard because we saw it coming (and we) had time to mentally prepare for it," Konovodoff said. "I was sad and it was hard for us seniors, (but we) understand that eventually (we are) going back to win a championship."
Last season, the Golden Eagles went 26-6 overall and proved themselves as a tough team to beat. They tallied wins over other nationally ranked teams such as No. 4 Wisconsin and No. 9 Brigham Young University and ended ranked No. 20 in the Division I coaches poll.
In the BIG EAST alone, Marquette faced numerous challenges against Creighton and St. John's, the 2019 BIG EAST champions. In conference play last season, the squad put up 16 wins and only two losses, both of which came against Creighton.
Using regular season play as momentum, the Golden Eagles were able to make a successful postseason run in both the BIG EAST and NCAA Tournaments. At the conclusion of the regular season, MU ranked No. 12 in the nation and No. 2 in the BIG EAST.
Marquette's schedule for the upcoming season would have been just as competitive as it was in 2019, as the team looked for redemption in the BIG EAST Championship. Last season, the Golden Eagles were able to make it to the BIG EAST final against St. John's, falling 3-1. This season, though, MU would have faced volleyball powerhouse and conference rival Creighton four times due to the realignment of the conference schedule. The Bluejays ended the season at No. 16 in the coaches poll.
Konovodoff explained that matches are always exciting with how competitive teams are in the BIG EAST.
"After every single season, after every Zoom call, our goal is to win a championship," Konovodoff said. "We have a strong team and we knew it was going to be competitive, and (I) looked forward to putting on my jersey for those games."
Theis said he was looking forward to the weekend series-type environments for these games, where the Golden Eagles would have played two teams in the span of three days.
"I kind of like a weekend series. I kind of like that as a coach," Theis said. "You make some tweaks (after one game) and as a coach it makes you feel like as a coach you're doing something (to change the game)."
Besides playing volleyball, Theis will miss the fun activities the team partakes in while on the road.
"(We were) starting with Central Florida, and we were going to spend a day at Disney while we were down there," Theis said.
Wherever the team was traveling for matches, they would often find places to go in their free time. For Konovodoff, that will be one of the things that she is going to miss most.
"Wherever we go, we fully experience that place," Konovodoff said. "(For example) we got tickets for Wicked in New York. (I'm) going to miss those things, but you've got to look at the big picture and I am excited to see my people (on campus)."
According to Theis, it will take a while before the team will be able to start practicing with each other again.
"(We have to) work through a four-stage program to practice, but (we've) got to be safe as a program, university and city," Theis said. "We will need guidance from the NCAA, get back to practice for 16-20 hours a week. Then the question will be, 'Are we having a condensed or modified season?' But for now, we are focusing on being healthy and smart and getting back together, but it will take time."
Theis is still keeping a positive mindset during these questionable times and cannot wait to be back on the court with fans in stands.
"We hope to see them this spring," Theis said. "The fans, band and community support. We are dying to get back out there and make Marquette look pretty good."
This story was written by Jackson Gross and Molly Gretzlock. They can be reached at jackson.gros[email protected] and [email protected] or on Twitter @JacksonGross6 and @mollygretzlock.
Leave a Comment
About the Contributors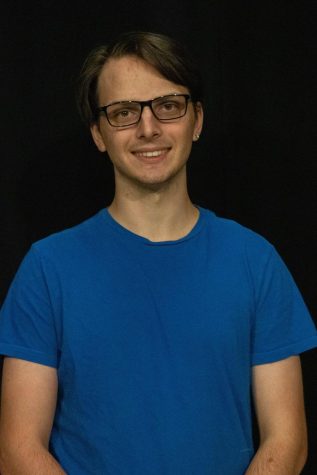 Jackson Gross, MUR Sports Audio Producer
Jackson is the MUR Sports Audio Producer at the Wire. He is a senior from Wheeling, IL studying journalism and minoring in digital media.

In his free...