Familiar faces help Elliott assume larger defensive role in BIG EAST play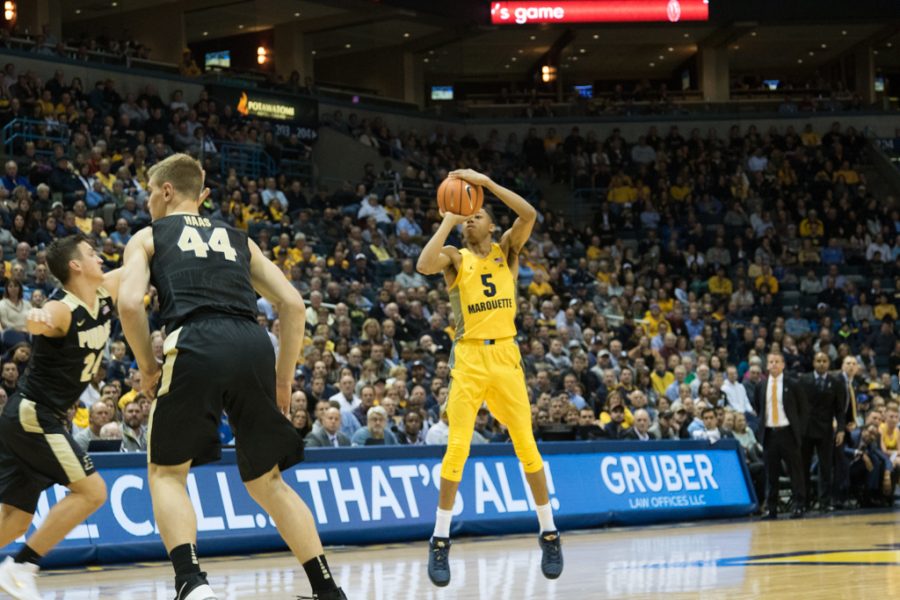 At this time last year, Marquette freshman Greg Elliott was a high school senior in Detroit hoping to land his first high-major college basketball offer from a school other than DePaul.
Now, Elliott has a much bigger battle — guarding many of the best guards in the BIG EAST on a defensively-challenged Marquette basketball team.
"It was tough on me at first," Elliott said. "But once you get used to it, and I used my length, for the most part it's easy."
After reaching 25-plus minutes just twice in 12 non-conference contests, Elliott has hit that mark in four of Marquette's six BIG EAST games.
One of his first challenges was stopping Kyron Cartwright, Providence's point guard and the reigning BIG EAST most improved player of the year. Although teammate Markus Howard garnered almost all the attention for a program record 52 points, Elliott chipped in 34 crucial minutes while helping limit Cartwright to three assists, his fewest in BIG EAST play since last February.
"Really it's just knowing that we have real tough guards in the BIG EAST and knowing that I can help with my length on the defensive end and help make it easier for our offense," Elliott said. "So my defense has been a real help."
A few days later, Elliott took on Villanova guard Jalen Brunson, whom ESPN ranks 69th in the upcoming NBA draft order. "He's a real good player … one of the best players in the country," Elliott said. "I see why they say that."
When Elliott and redshirt sophomore Sacar Anim were both in the game, Marquette outscored Villanova 41-40. When Elliott or Anim were on the bench, the Wildcats had a 60-39 scoring advantage.
Elliott was far from completely neutralizing Brunson; he scored 20 points in the second half alone. Brunson's performance highlighted how much room Elliott still has to improve. The 6-foot-3 guard's progress on the defensive end could accelerate as he adds muscle with continued conditioning.
"I don't know that Greg did everything perfect, but the son of a gun competes," Wojo said. "And I think he has a chance once he passes the 145-pound weight range to be really a terrific defender."
Some familiar faces have made Elliott's first few BIG EAST games an easier transition. Fellow freshmen Jamal Cain and Ike Eke played with Elliott on The Family, a travel basketball program based out of Detroit that competes in Nike's EYBL league, one of the nation's top summer leagues.
"It just all came together," associate head coach Stan Johnson said at the team's media day. "That may never happen again … The best way to recruit is to have players recruit each other. And those guys wanted to play with each other."
Recruiting people with prior relationships has immediate on-court impact, said fellow associate head coach Brett Nelson.
"Those guys have a unique bond," Nelson said. "To be good as you possibly can be, you have to like each other. It's pretty simple."
Moving forward, Elliott wants another tool in his repertoire — 3-point shooting. The young guard has gone 5 for 7 from the perimeter since the start of BIG EAST play.
"I've been working on (perimeter shooting) a lot lately," Elliott said. "I've been in the gym later after practice, getting up extra shots, and its improved and showed on the floor."
Elliott has enjoyed the time in the gym with his longtime teammates.
"It was real fun knowing I had two players from where I'm from to come to school with me for four years maybe," Elliott said at media day. "So it was cool."