Men's basketball coaches not surprised at recent FBI probe
The FBI sent much of the college basketball world into shock at the end of September, arresting assistant coaches from Auburn, Arizona, Oklahoma State and University of Southern California in a major college basketball corruption scandal.
Amid all the chaos, many groups of people in the know were unsurprised. The Marquette men's basketball's coaching staff was among the group.
"Is it totally shocking to the people in the business? I'm afraid to say that, but no," associate head coach Stan Johnson said. "These things have happened, but these things have been happening for a long period of time."
Last month's arrests came after an investigation of college basketball coaches using shoe companies to bribe high school athletes, and financial advisers and agents bribing coaches to recommend them to future NBA athletes. The report also led to the firing of Louisville head coach Rick Pitino and athletic director Tom Jurich.
The surprising part for Johnson is how the investigation unfolded. He's seen the NCAA throw down infractions plenty of times before, but the FBI stepping in added a new level of seriousness.
"When you think of NCAA violations, you think of the NCAA coming down with infractions or catching somebody in something," Johnson said. "You don't think of the FBI being involved. From that standpoint, that's the most shocking."
Head coach Steve Wojciechowski maintains that Marquette has done nothing to warrant FBI involvement. "Clear conscience is a great pillow," Wojciechowski said during his media day press conference.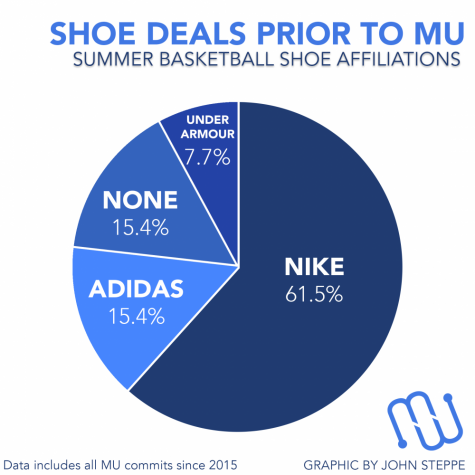 The staff said having an open dialogue with each other prevents an issue like this from appearing on campus.
"Obviously as a staff we're in constant communication among ourselves and our compliance department," associate head coach Brett Nelson said. "And at the end of the day, we're going to do things the right way. It's all about knowing the rules, abiding by the rules and having great communication."
Those rules and expectations are crystal-clear, Wojciechowski said.
"In terms of myself and the people I hire, they know where I stand, so a situation like that doesn't cause a reaction from us," Wojciechowski said. "Because those aren't waters we're going to be swimming in."
If a recruit suggests that Marquette enter those waters, the staff would stop pursuing him right there, Johnson said.
"If we're in a position where any kid were to ask or a family, we wouldn't recruit those guys," Johnson said. "There are certain things you have to be able to live with."
Wojciechowski and staff have explained the industry phenomenon by mentioning its similarities with any other major industry.
"College basketball and athletics as a whole is a mega-business and there's a lot of money at stake," Johnson said. "Anytime you have that, people are always going to be trying to find creative avenues and ways – whether that's legally or illegally – to make money."
"Adidas or Nike, all these people want high-level guys to market their brand and be in their company," Johnson said. "It's not only with college basketball; that's a worldly thing."
Some will run that business cleaner and more ethically sound than others.
"In the world you're going to have different companies that try to maneuver in certain ways to put themselves in an advantageous position," Johnson said. "So I don't think that's just reflective of college basketball itself."
Johnson doesn't even view the recent issue as an NCAA problem, but instead as a moral problem.
"This is not an NCAA thing," Johnson said. "This is a who you are as a person kind of thing."
If that business – or in this case, Wojciechowski's program – fails to succeed because it abided NCAA rules, Wojo says he'd be more content than succeeding by running afoul of those rules.
"You do things the right way, you compete your heart out, you try to help these kids grow in every way and you do it ethically," Wojo said. "And at the end of the day, if that's not good enough, that's not good enough."
Wojo and his staff maintain that this investigation is a chance for the whole industry to ask how it can be better.
"Anytime something like this happens that creates a shockwave, people are going to ask questions about how do we make this better," Wojciechowski said. "Those are legitimate questions to ask that you should always have, not just in moments of adversity or difficulty."
Marquette has not been linked to any part of the FBI probe, but as prosecutor Joon Kim told media at the time of the arrests, the investigation is just getting started.
"We have your playbook," Kim warned.
Andrew Goldstein contributed to this report.
Leave a Comment