Jacob Rose, recovering from injury, hopes for second chance to impress coaches
Freshman walk-on hopeful still rehabbing ACL ailment from senior year.
Something didn't feel right for freshman Jacob Rose during his Marquette basketball walk-on tryout. As Rose ran alongside 14 other players, all vying for a coveted spot on the team, he noticed his left leg was still a little tight.
When he tried driving off that leg for a layup during five-on-five basketball, it took a lot more effort than he remembered.
"I just don't feel as explosive," Rose said. "Jumping off the left, I can do it, but I'm not doing it as good as I used to be."
It was the aftermath from an Anterior Cruciate Ligament (ACL) injury Rose suffered during the first football game of his senior year at Pasadena High School in Pasadena, California. He watched his basketball team make it to the state semifinals from the sidelines the following March. "Senior year sucked," Rose said.
Over a year later, that ACL was still hampering Rose's performance in the most important basketball practice of his life: the one that would determine whether he could fulfill his goal of walking on at Marquette.
"I think I can do way better than I showed the coaches that day," Rose said. "I felt like I kind of went through the motions, and I felt really bad about that."
Effort is the one thing that didn't escape associate head coach Brett Nelson's attention. Nelson values attitude and hustle over all else when selecting a walk-on — someone who may not see a minute of game action all year.
"We're looking for consistent, every day guys with positive energy," Nelson said. "(And) obviously guys who are going to know their role within our team. Walk-ons are very important to what we do."
To try out for the men's basketball team is to enter Nelson's domain. He lead over the group with a watchful eye and a coach's whistle draped around his neck, ready to correct imperfections at a moment's notice. Program assistant Dan Madhavapallil often stood on the opposite sideline from Nelson, quietly observing and occasionally pointing things out to him.
"It was kind of like my first real practice … in almost a year," Rose said. "It was just a mindset of trying to get back into it. Working out at the rec, playing pickup games, running; it's not the same."
The opening drill, which Nelson called, "perfect layups," typified the afternoon. Nelson split the players into two lines, one on the left and one on the right. The player on the right had to dribble to the hoop and execute a layup off the glass. The person on the left had to rebound the layup and pass to the next guy before sprinting to the back of the line on the right. The assembled players had eight minutes to do this 16 times in a row without a mistake.
Each time the players made a mistake, Nelson screamed, "Zero!" to let them know the count had been reset. Dribble around the outside of the cone instead of the inside on a layup approach? "Zero!" Forget to step out of bounds before passing it? "Zero!" Jog to the back of the line instead of sprint? "You didn't sprint! Zero!"
Nelson called these "peer pressure drills," and the coaching staff does them on a daily basis with the scholarship players.
"You've got to listen, you've got to talk and you've got to communicate," Nelson said. "You've got to hold your share of the rope … Otherwise, you're going to let the team down."
Rose made his way through the nonstop pace of "perfect layups" and the ensuing wind sprints called "22s" in good shape. While some other tryout participants were hunched over after the initial drills, Rose maintained a rigid, upright gait.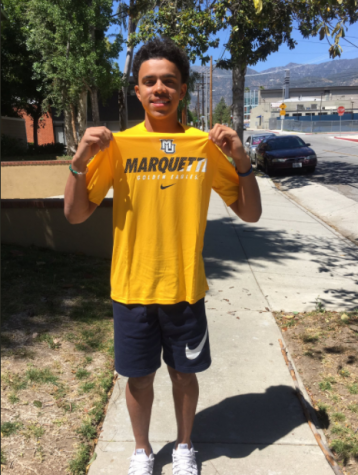 "I knew it was going to be a lot of running," Rose said. "I worked out a lot, and I ran a lot of '22s' like we did during the tryout."
Playing high-level college basketball has been in Rose's blood since his childhood in Townsville, Australia, where he lived down the street from current Marquette basketball player Harry Froling. His father, Rob Rose, briefly played for the Los Angeles Clippers before becoming one of the most decorated players of all time in Australia's National Basketball League (NBL).
"I pride myself on defense just like he does," Jacob said of his father. "He was a leader, and I believe I'm a leader as well."
Both of those traits were on display in the five-on-five full court games toward the end of the tryout. Rose stood his ground on the defensive end, denying dribble-drives and sticking with his man off the ball. However, that production didn't translate to the offensive end, where he was unable to generate many open shots for himself.
Rose had the benefit of playing recreational basketball with most of the people trying out. Almost all of the players knew each other, and their play reflected it — there were a few backdoor cuts and even one or two set offensive plays.
"We've all been playing basketball for three or four years," participant Moyo Ogunkunle said. "It's kind of like a natural chemistry when you get on the court with other people who know the game of basketball and love the game of basketball."
While Rose enjoyed getting back on the court for his first formal practice since tearing his ACL, he's now left to wait and wonder if he'll get a second chance.
"I guess you could say one of the reasons I came here was to try and walk on; it's all I wanted to do for all of my life," Rose said. "Not making the team would be horrible."
Then Rose paused.
"Well, not horrible. I don't know, I'm trying to think of the word."
After a few seconds of silence, Rose said, "It just wouldn't be ideal … I'd just feel sad."
Leave a Comment