Galantis brings high energy to The Rave
Galantis is a Swedish EDM duo known for their danceable tunes and memorable lyrics, like "No Money" and "Runaway (U & I)." They have been a staple college pump up playlists for years, making them a must see when they came to Milwaukee.
Galantis visited the Rave/Eagles Club Saturday night, as they continued their tour of their latest album, "The Aviary." The twosome was accompanied by The Him, who definitely hyped up the crowd as they constantly jumped around the stage throughout their set and encouraged the crowd to do the same.
But after an hour and a half of various DJs and one hour of The Him, fans were anxious for the Galantis to hit the stage.
At 11 p.m. the lights went up and different, tropical sound effects played. Christian Karlsson and Linus Eklöw walked on stage carrying drum sticks. They started banging on upright drums as incredible vivid graphics came on the screen behind them. It was then that they started playing "Runaway (U & I)," and the crowd began to cheer wildly.
The duo did a lot of mashups of all their songs, which kept the crowd captivated and provided a constant stream of music. They also performed remixes of other popular songs, such as "Heads Will Roll" by Yeah Yeah Yeahs, "I Wanna Dance with Somebody" by Whitney Houston and "Feels" by Calvin Harris.
The most interesting part of their entire set was the different graphics that filled the screen the entire show. Some of them were in accordance to the lyrics of the songs that were playing, while others were completely random. The most memorable set of graphics was of foxes in leotards and retro comic book drawings.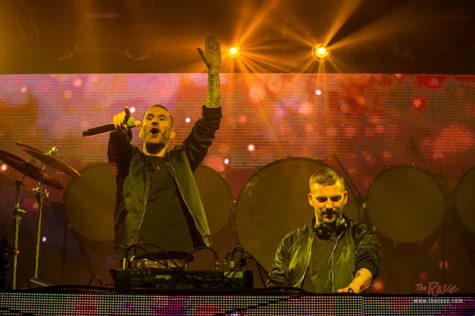 During "No Money," everyone in the crowd belted the lyrics as confetti flew everywhere and lights flashed.  Shortly after that, they played "You" and a girl in a strange fox-bird mask, who is featured in the music video, came on stage. The crowd cheered when the pair announced their final song, "Peanut Butter Jelly." As Galantis left the stage, the crowd demanded more, screaming for an encore.  They came back out to play "Girl on Boys."
They added one more song, so the show ended with "Runaway (U & I)," finishing right where it started. As the final beat hit, the crowd cheered excitedly and Klasson and Eklöw smiled. They held up both ends of a flag that had their album cover and read "#SeaFoxNation We love you!" across it.
It was an incredible show with an excited crowd and strong energy. If one is looking for a place to dance and sing his or her heart out, check out Galantis's show next time they come to town.
Leave a Comment