Pineapples, airplanes and Abraham Lincoln.  This isn't a list of random words. Instead, these are just a few of the colorful, creative socks that many freshmen at Marquette are embracing with open arms and feet.
The reasons for wearing artsy socks vary from person to person. Michael McDonald, a freshman in the College of Business Administration, who was sporting a pair of blue socks with jumbo jets, helicopters and various other aircraft, said that he does it because it's fun.
McDonald got his first pair of crazy socks sophomore year of high school, and he's been addicted ever since.
"I was just walking around TJ Maxx and saw some on the wall," he said. "I was like 'Hey, I could spice up my wardrobe with these fun socks!'"
Three years later, McDonald's expansive stash, now stuffed in the top drawer of his filled to the brim dorm dresser, features simple striped socks with classic paintings such as Edvard Munch's "The Scream."
But McDonald said that his reason for wearing fun socks isn't only for the design. He also loves the extra comfy feel.
"Comfort and style together. That's the beauty of (fun) socks," McDonald said.
Joe Passmore, a freshman in the College of Arts & Sciences, agreed with McDonald's sentiment.
"I feel like there's a real big fun sock movement going on," Passmore said.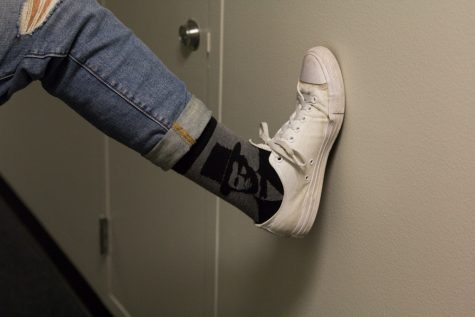 Passmore then pulled up the bottom of his jeans to showcase his grey socks featuring a portrait of  Lincoln, mentioning that these and his pair of socks with John F. Kennedy on them were his favorites.
"When I rented my prom tux last year, they were like, 'Well, what kind of socks do you want?'" Passmore said. "'Do you want fun socks or normal socks?' and I was like 'Give me the fun socks!'  It's like fun socks are now part of male fashion."
Passmore said he felt like fun socks are a fun way to express oneself while keeping the expression quiet.
"I feel like it's just a thing for you, because who sees your socks?" Passmore said, "You're just like, 'You know what? No matter what I'm wearing, I'm just gonna put on a little fun sock for me!'"
Showing off his socks was something Passmore said he enjoyed.  He said that he loves to see people's faces light up when he shows off his socks.
"It's all about the reveal," Passmore said.  "It's great."
Passmore said that he got his first pair of crazy socks, a multi-colored striped pair, for Christmas in high school.
Katie Uttal, a freshman in the College of Arts & Sciences, said her sock addiction started much earlier.  Uttal said she has been wearing fun socks for as long as she's thought about her clothing choices. Some of her oldest socks are from elementary school.
"I never wore paired socks," she said. "I've always kind of been into fun combinations of socks, so now I wear fun socks because I actually care about pairing my socks … If I'm gonna wear socks, I'm gonna wear fun socks!"
She said that she loves to show them off to anyone that will look. In fact, she ran to grab a big box that held over 25 unique pairs of socks, and as she pulled them out, she described each one in detail.
"People are always just like, 'Oh, I love your socks," she said. "I consider myself kind of a goofy person, and my socks are a reflection of that … It's a way to express some creativity."