Wintertime fun on the slopes
As campus life returns, students may be reminiscent of their winter break. Winter's frigid temperature and snowstorms bring niche recreational activities. Snowshoeing, sledding and ice fishing are frosty fun for the frozen fan but skiing might be the preeminent winter activity.
Caleb Kwasigroch, a junior in the College of Communication, has only recently picked up skiing but is a big fan of winter activity.
"My whole life I have been sledding, tubing. I love those good ol' winter activities," Kwasigroch said. "With skiing there feels like there is much more skill involved…I always thought skiing was some really difficult sport but going for the first time it was maybe 45 minutes to an hour before I got the hang of it and it was so much fun."
Ancient cave paintings show that skiing has been around for thousands of years. In early modern times, farmers in Scandinavia used skis to get around and even used them in military practice. Sweden was first noted for militarized skis as far back as the 12th century during the Norwegian civil war. This hybrid of skis and riflery invented a new winter sport the biathlon, where athletes navigate a cross-country course while taking intervals to shoot targets.
Miranda Hunt, a senior in the College of Communication and native to popular ski destination Colorado, has been skiing since she was two years old. She remembers going to the mountain every weekend with her family in middle school.
During World War II, America trained troops in Colorado for skiing in preparation for the intense terrain of the Alps along Germany's border. These men were part of the 10th division and battled with Germans for six months on Mount Belvedere.
Although not to enroll in the 10th division,  DJ Lenius, a sophomore in the College of Engineering, went out to Colorado for skiing with friends during the break and has been skiing for a decade.
"We [my friends and I] like side country skiing, really like the powder, some people call us powder chasers. So we try to get up as early as we can and get early tracks down the mountain. We like skiing glades too, pushing ourselves and the limit of our skis," Lenius said.
Currently in the U.S. there are more than 400 ski resorts, with Wisconsin housing 35 of them. The closest resort to campus is The Rock Snowpark in Franklin, Wisconsin, just 15 minutes away from downtown Milwaukee.
Lenius said he is thankful he grew with Midwest skiing, but is happy to be branching out to more trying terrain.
"I would say learning in Wisconsin helped me become a better skier because I was able to focus on the fundamentals. Where as when you are out west there is a much more expansive expert area," Lenius said.
The Winter Olympics have visited the United States four times, with the most recent being in 2002 in Salt Lake City, Utah, which saw a record total of 18 nations awarded with gold medals.
Skiing events in the Olympics have been around since the beginning in 1924 when it was hosted in Chamonix, France. A variety of ski disciplines and events are performed during the Olympics, including alpine, cross-country, jumping, Nordic and freestyle, each with their own history and champions. All events will return for the 2022 Beijing Olympics.
Hunt said as a kid she watched Lindsey Vonn, the all-time leader in women's World Cup race victories (82) and three-time Olympic medalist in alpine skiing.
"She redefined competitive skiing," Hunt said. "She just kept pushing the time faster and faster and getting tighter turns…when I was in middle school she won a big championship and I watched her ski and was like, 'Oh that's how your supposed to do it' and I know that that was the same for a lot of girls my age."
Freestyle skiing is the newest skiing event in the Olympics and made its first appearance at the 1988 Calgary Winter Games as a demonstration sport where athletes would perform stunts and maneuver through moguls. In 1992, at the Albertville Winter Games, freestyle skiing would have its first recognized event in moguls, and Donna Weinbrecht from the United States became the first gold winner in the women's event.
Hunt said skiing unlocked a courage in herself.
"It taught me a lot about my own personal strength and my willingness to do crazy stuff. It made me a lot more confident in my own life, like if I can jump off the top of this cliff and ski down it, I can give a presentation," Hunt said.
Freestyle skiing was previously known as "hot dog skiing," when crowds gathered and watched athletes perform acrobatics and stunts. Crowds particularly enjoyed when participants were able to recover from a grand wipe out. The first notable hot dog skier to was two-time gold champion in alpine skiing Stein Eriksen of Norway. His acrobatic exhibitions dazzled spectators so much that he was able to charge $1,000 for a show.
Freestyle skiing is said to be conceived in Waterville Valley, New Hampshire which became the first place to offer freestyle ski instructions in the 1970s. Soon after, the resort hosted the first Freestyle National Championship and the rest is history, as Waterville Valley ski resort claims to be "birthplace of freestyle skiing."
Kwasigroch said after some time and practice he was soon hitting the jumps and sticking the landings which he said was very satisfying. He encourages everyone to try skiing and give it a chance, even if there is some fear that obstructs your slopes.
This story was written by Connor Baldwin. He can be reached at [email protected]
Leave a Comment
About the Contributor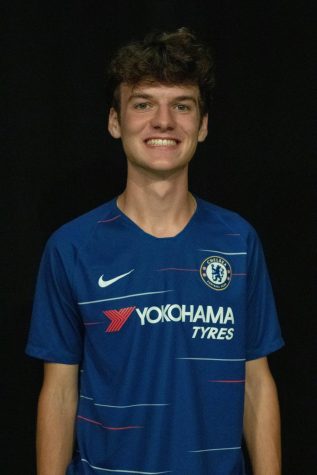 Connor Baldwin, Assistant Investigative Editor
Connor is an Assistant Investigative Editor for Fall 2022 at the Wire. He is a sophomore from Penacook, NH studying digital media.

In his free time,...