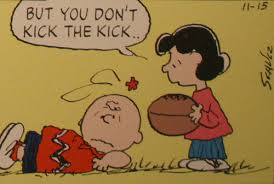 In his final "Peanuts" comic strip, Charles Schulz wrote, "I have been fortunate to draw Charlie Brown and his friends for almost 50 years … I have been grateful for the … wonderful support and love expressed to me by fans of the comic strip." That strip was published on the day of Schulz's death, Feb. 13, 2000 – eighteen years ago this month.
Today, Charlie Brown, Snoopy and the rest of the "Peanuts" gang are still incredibly popular. Yet, this raises the question of why Schulz's creation and characters have maintained relevance and devoted fans over the years, despite debuting nearly 70 years ago.
"Peanuts" debuted on Oct. 2, 1950, in seven newspapers. Fifty years and nearly 18,000 strips later, the strip had become a cultural phenomenon, going so far as being the namesake of the Apollo 10 landing module.
Colin Barrington, a sophomore in the College of Arts & Sciences, said he thought the relatable nature of the strip is the reason it is still popular.
"('Peanuts') has aspects that people can connect with," Barrington said. "Things like friendship, learning experiences, becoming more accepting as a society and opening up your mind to creativity."
The themes of friendship and becoming more accepting are pillars of the strip. In 1968, the strip introduced Franklin, an African-American character who is friends with the rest of the "Peanuts" gang.  The character wasn't introduced as a special feature. Instead, he was just another kid in the neighborhood, with his race being no reason to separate him from the other kids.
Charlie Brown, the protagonist of the strip, offered a lovable loser that most everyone could relate to in one way or another.
"We know what it's like to not always win, like Charlie Brown," Katie Uttal, a freshman in the College of Arts & Sciences, said.
Charlie Brown's relationship with his baseball team encapsulated his losing ways. It was only the games Charlie Brown did not attend where his team would win. Yet no matter the number of losses, Charlie Brown always remained optimistic about his team's chances.
Natalie Delich, a sophomore in the College of Communication, said she definitely finds hope amidst the hopelessness of Charlie Brown.
"I feel like Charlie Brown is quite the pessimist, and I think a majority of people are pessimists," Delich said. "But he's a hopeful pessimist. And in the end, things end up okay for him. It just makes him more lovable."
Echoing the sentiment of Uttal, Delich further said, "I feel like everyone has felt like Charlie Brown at some point, but at other points, you also feel like Snoopy."
The character of Snoopy is another major part of the strip, as is the childlike wonder that Charlie Brown's notorious pet beagle embodies. Snoopy regularly has fantasies of grandeur, from imagining himself as a World War I flying ace challenging the Red Baron to becoming Joe Cool, the stereotypical "cool kid on campus," who hangs around the water fountain and is never without his sunglasses.
The beagle frequently antagonizes Linus van Pelt, a character who is one of the most complex in the strip. On one hand, van Pelt clings to childhood through his security blanket and devotion to The Great Pumpkin, while on the other hand he regularly discusses philosophy and quotes the Bible.
This dichotomous personality is just one example of Schulz's powerful and ingenious writing. Using the simple form of a comic strip, Schulz could express deep philosophical ideas in a way that was easily digestible for anyone, old or young, to understand. In doing that, Barrington said, Schulz created "pieces that were relatable in a way that can span across time periods."
In addition to the daily comic strips, "Peanuts" expanded into other facets of popular culture from television specials to plush dolls. Yet even with these secondary products being introduced, the original material of Schulz's comics remained.
"I think (the products) make the comics more appealing," Delich said. "They (just) make it almost impossible not to know the comic."
Both because of Schulz's original genius and the further progression of his characters in pop culture, "Peanuts" is perhaps just as popular today as it has been at any point over the past 70 years. Whether that's due to complex characters and ideas or the sense of childlike innocence that permeates through the strip, "Peanuts" is undoubtedly still part of everyday life.
As Delich succinctly said, "Kind of like how the Beatles are the quintessential band, "Peanuts" is the quintessential comic strip."