Kutey's performance the lone bright spot in scrimmage rout versus Wisconsin
Hang on for a minute...we're trying to find some more stories you might like.
One year ago, as Marquette prepared to scrimmage in-state rival Wisconsin, reigning all-BIG EAST Freshman Team honoree Jamie Kutey got mononucleosis – mono for short – essentially ending her season before it even started.
"It was heartbreaking honestly," Kutey said. "So being back 100 percent now is an awesome feeling and it's great to be back on the field."
A year later, Kutey did not dwell on her return. Just 65 seconds into play, the junior forward scored her first goal of the game. "We did a great job on the goal," head coach Markus Roeders said. "It was a great play on the front line."
The fact that it was scored against Wisconsin, the team that knocked Marquette out of last year's NCAA Tournament, made it even sweeter. "This was our first game and a really big rivalry," Kutey said. " So coming out strong was really important."
The other 89 minutes of the game did not go as well for Kutey or her Marquette teammates, as that would be the Golden Eagles' only goal in their 4-1 exhibition loss to Wisconsin.
After Kutey's goal in the second minute, Marquette's offense struggled to gain a footing in the game, mustering only four shots after Kutey's early salvo. Wisconsin's offense then picked up, scoring three times in the first half including one goal from forward Dani Rhodes less than three minutes after Kutey's strike. Fellow Badgers Victoria Pickett and Lauren Rice also contributed a goal apiece in the first 20 minutes of the match. Midfielder Grace Bahr scored Wisconsin's fourth and final goal in the 49th minute, providing the early capper to a Wisconsin rout.
A strenuous team retreat is one possible explanation offered for Marquette's beleaguered play. Roeders took his team on its annual retreat to Camp Whitcomb in Hartland, Wisconsin, where they stayed to train for five days before the scrimmage loss.
"There's a fatigue part in there that we're going to need to overcome moving forward," Roeders said. "You miss being as close as you want to be or engaging in the tackle."
Kutey, now on her third team retreat, echoed her coach's sentiment. "We've been at Whitcomb for five days so far," Kutey said. "So I think we're all kind of a bit drained."
Roeders and company have eight days to adjust before their season opener. To add to the challenge, their first two opponents are second-ranked Stanford Aug. 18 and Kentucky Aug. 20. "We have a lot to learn and a lot to work on," Kutey said. "So tonight was a good indicator of what we need to work on to be successful for the rest of the season."
Marquette's 22nd-year head coach hardly expects this development to be instantaneous, though. "It's going to take time," Roeders said. "We've only been at this for eight or nine days."

About the Writer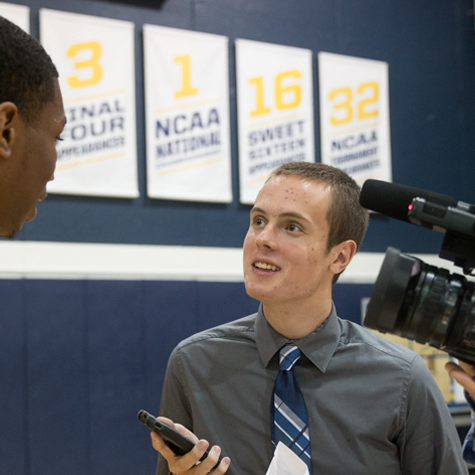 John Steppe, Executive Sports Editor
John Steppe is the executive sports editor for the Marquette Wire. He is a junior majoring in journalism and double-minoring in digital media and Spanish....