Women's soccer preview: Post-Proffitt era begins for reigning co-champs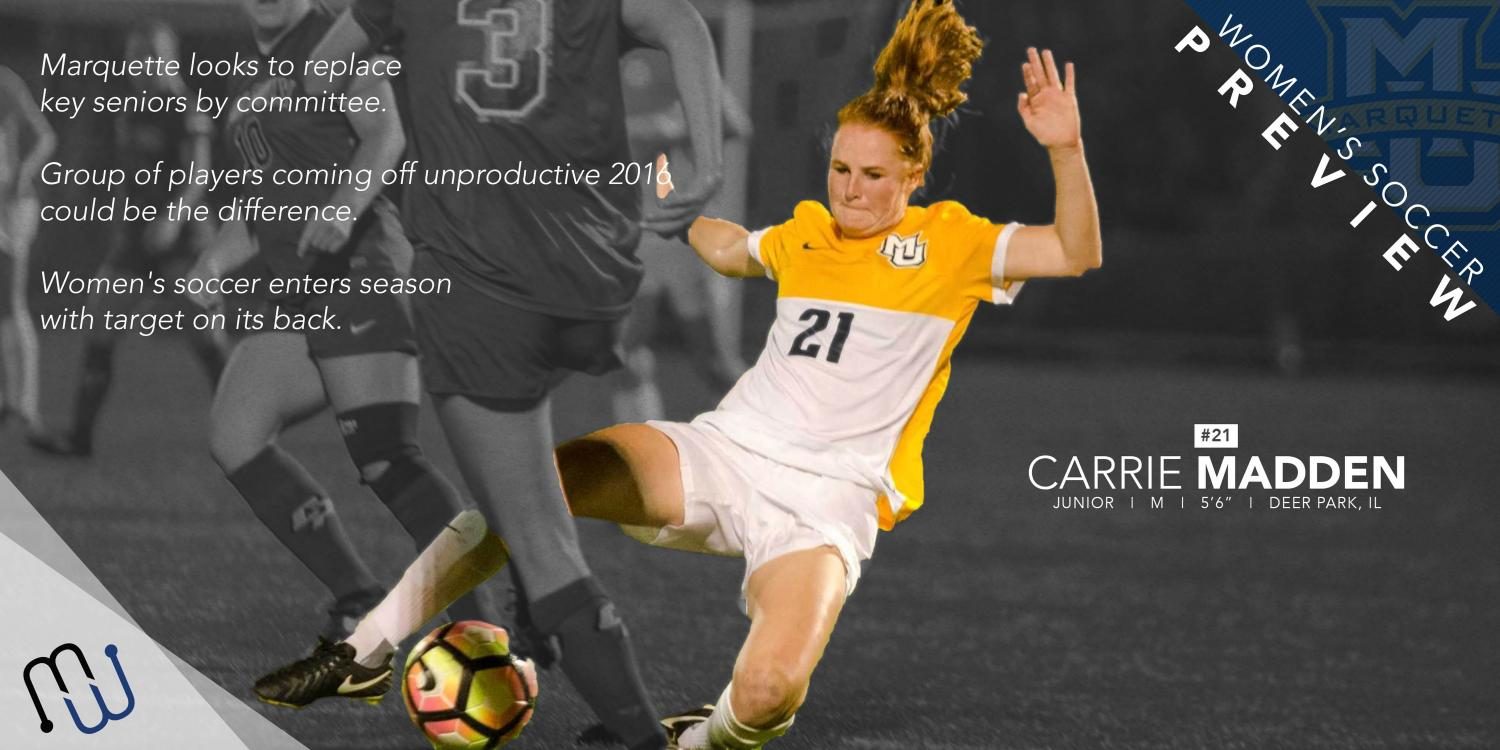 In 2013, Morgan Proffitt and Liz Bartels entered Marquette at the end of an era. Maegan Kelly, the team's leading goal-scorer for the past three years, was entering her senior season. Three players with BIG EAST first team honors from the previous year graduated, including reigning conference defensive player of the year Ally Miller.
Four years later, with Proffitt and Bartels now graduated, Marquette women's soccer faces the beginning of another era. Marquette must replace Proffitt who, like Miller in 2013, was the BIG EAST Defensive Player of the Year her senior year. In Proffitt and Bartels' four seasons, Marquette won two BIG EAST regular season titles and appeared in the NCAA Tournament twice alongside other key seniors such as Molly Pfeiffer and Erin Holland.
"Obviously we've lost some players that over the past four years have had a huge impact individually on our team and won a couple of BIG EAST championships in the regular season," head coach Markus Roeders said. "We've been really successful with them."
Just as Marquette relied on Kelly to lead the scoring attack four years ago, seniors Carrie Madden and Darian Powell are primed to lead the charge in 2017. Instead of sophomore Amanda Engel starting as keeper for the second straight season in 2013, it's sophomore Maddy Henry starting in goal this year after net-minding for all 22 matches last year.
"It is a little bit of a new era," Roeders acknowledged. "But as a coach, you realize that every year there is a level of turnover. You move forward."
---
Key seniors to be replaced by committee
The team is well aware of the position it's in without four of its top six point-scorers from a year ago.
"I think a lot of people are saying, 'What are you going to do without personalities like Morgan and Liz?'" senior defender Madison Dunker said. "But obviously we have to work with what we have and we're super excited to really see what we can do."
While there are still some question marks for 2017, one thing is clear: no one player will replace the production of last year's key seniors, nor is any one player expected to. "Our team and overall theme have never been about just one or two players," Roeders said.
Marquette will have six returning starters this year—Henry, sophomore defender Emily Hess, Dunker, redshirt junior midfielder Ryley Bugay, sixth-year senior Darian Powell and redshirt junior forward Carrie Madden. An incredibly tough start to the season against No. 2 Stanford means the team will have to place the emphasis on those six very quickly.
"I don't think we can focus too much on what we don't have anymore," Dunker said. "I think we have to focus on really what we do have."
---
Sidelined 2016 players look to bounce back
Last year at this time,  Carrie Madden was not expected to do much. She only appeared in one match in 2015 and redshirted her 2014 season. However, she quickly emerged as Marquette's top scoring threat, leading the team in points, goals, assists, shot attempts and game-winning goals.
"This time last year, nobody would've really talked about Carrie Madden," Roeders said. "And see what Carrie Madden has done for us this past year—some of the important plays she was a part of and some of the goals she scored."
Roeders now expects the same to happen this year with a different group of players. With several key cogs coming off redshirt years or dealing with injuries, there are plenty of possible candidates to make a leap. Midfield/forward Heather Handwork and defender Kirsten Timmer both redshirted their junior seasons. Forward Jamie Kutey, who was on the BIG EAST Freshman Team in 2015, missed all but three games after contracting mononucleosis.
"We have quite a few girls that can step up in those positions and make some impact," Dunker said. "So I'm excited to see that…It's really going to come down to who shows in practice and who performs."
The only player unavailable so far is Maura Weaver, who is still rehabbing and will not play this season. At the same time, there will also be opportunities for freshmen to step up, even more so than in previous years.
"At the end of the day, older players have a bit more experience, but that doesn't mean young players won't get the opportunity," Roeders said. "On this club more than ever, young players are going to have an opportunity to take a step forward."
Of the six true freshmen on the roster, the three most likely to contribute serious minutes right away are forward Kylie Sprecher, midfield/forward Rachel Johnson and midfield/forward Meredith McGuire.
"Obviously that's hard (to replace year's seniors)," senior Caroline Fink admitted. "But we have a great group of freshmen that came in and everyone's really stepping up and really finding themselves."
---
Early gauntlet will provide important test for  young nucleus
In previous years, Marquette has scheduled lid-lifters against challenging teams; think Nebraska in 2016 or Utah in 2015. However, Marquette is taking its season opener to another level this year, hosting second-ranked Stanford. The Golden Eagles will then host Kentucky two days later.
"(That weekend) is definitely going to demand the best of us already," Roeders said. "We know we won't be at our best yet."
In last year's matchup, Stanford outshot Marquette 31-2 and did not allow a single Golden Eagle corner kick. Senior Andee Nelson was the only Marquette player to have a shot on goal. Even so, the loss does not impact the mindset entering play Friday.
"We are about winning championships, so we don't shy away from any opponent," Roeders said. "We know we can play and beat anybody at given time."
"They're obviously a high-ranked team, so you have to think about that," Dunker said. "But we just have to worry about how we're playing and put our game on them. I think that's all you can do."