Summer update: Basketball chases top recruits
Joey Hauser takes unofficial campus visit
As the fall signing period comes farther into focus, Marquette is ramping up efforts to snag a high-priority target for 2018.
Joey Hauser, a power forward recruit at Stevens Point Area Senior High School (SPASH), was on campus for an unofficial visit last weekend. The visit coincided with Marquette's Centennial Hoopla. According to the Wire's John Steppe, Hauser was the only recruit on campus during the event.
Current Marquette player Sam Hauser is Joey's brother and also played at SPASH. Joey previously said that while having his brother at Marquette "plays (into his decision) a bit," it will not be the deciding factor. Sam is still excited about his brother looking into Marquette.
"It's pretty cool," Sam said. "He gets good experience having me around and he kind of gets the inside scoop more than other recruits, I would say. It's good for him."
Joey is the 29th best recruit in the country for 2018 and the best in the state of Wisconsin, per the 247sports composite rankings. Marquette offered Joey a scholarship July 1, 2015, nearly two years ago.
Basketball scopes out more high-level recruits
Hauser is definitely not the only top recruit to draw interest from Marquette.
Class of 2020 wing Jalen Johnson received an offer from the Golden Eagles last week. A few days later, ESPN's early rankings of the top 25 players in the class had the Sun Prairie, Wis. native 13th. Two other players on the list, shooting guard Jalen Suggs (No. 3) and point guard Nico Mannion (No. 19), also received offers from Marquette.
There are some high-profile players on the more immediate horizon as well. Four 2019 top-100 recruits have Marquette offers on their kitchen tables, including five-star recruit Matthew Hurt. Racine, Wisconsin power forward Nobal Days has had a Marquette offer since last summer and took an unofficial visit in October. He says he plans on coming to some Marquette games this year.
So far, Wojo has proved to be an adept recruiter. In his first two years, Wojo landed a pair of players on 247's top-100 list. However, none of this year's four freshmen fit that description.
Update: Jalen Smith officially signed with Maryland on Monday night.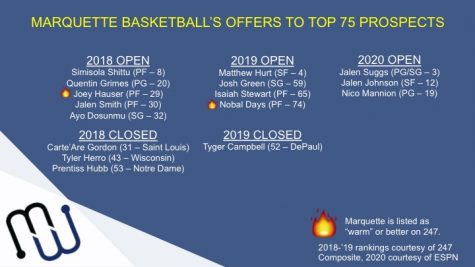 McClelland competes at Junior Championships
There was one more run for rising sophomore Max McClelland to complete before he could call it an offseason.
That run was the 3,000-meter steeplechase at Saturday's 2017 USA Junior Outdoor Championships at Sacramento State University. McClelland finished 10th with a time of 10:00:06, roughly 45 seconds behind race winner Timothy Bason of North Carolina State.
Temperatures around race time hovered just under 100 degrees.
"It was a solid effort for him, but not the place we were hoping for," assistant track and field coach Brett Nelson told GoMarquette.com.
McClelland became a notable recruit after setting four school records at Bishop Watterson High in Powell, Ohio, including the record for fastest 5K in both cross-country and track.
Fellow rising sophomore Daniel Armstrong qualified for the high jump this weekend, but was unable to compete due to injury.
Quick hits
Marquette basketball held its Centennial Hoopla Saturday to cap off the 100th anniversary season. ESPN analyst Jay Bilas emceed the event, which featured lots of returning Golden Eagle players and coaches. To read more of our Hoopla coverage, click here.
One former Golden Eagle that couldn't make it back to Hoopla was Jimmy Butler. The NBA star was traded from the Chicago Bulls to the Minnesota Timberwolves on draft night. Butler is now the second Marquette graduate to play in Minnesota; Lazar Heyward did it first in 2010-'11.
It seems like every week of Marquette basketball summer camp produces a new viral moment. This week's came courtesy of a young camper named Vinny, who beat Wojo in a brief game of one-on-one.
Leave a Comment