Joey Hauser talks playing with brother, picks up Michigan State offer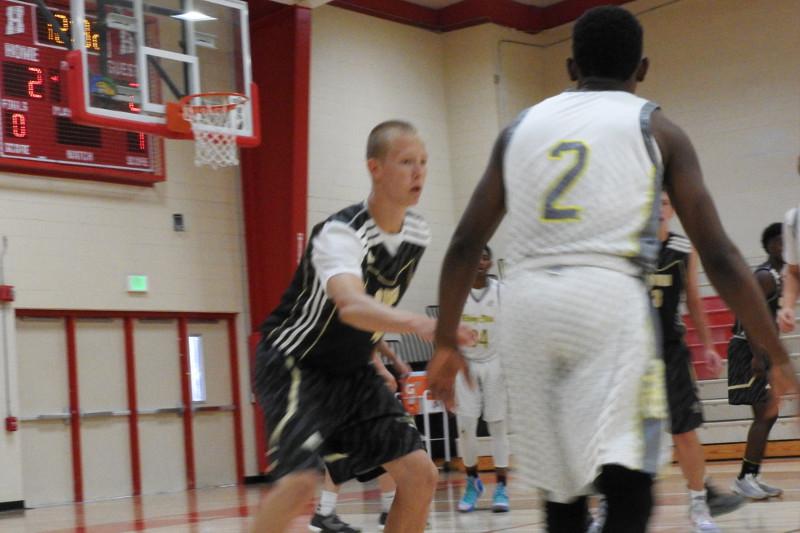 John Steppe, john.steppe@mu.edu
July 14, 2016
Class of 2018 forward Joey Hauser continued to wow coaches from across the country, scoring 19 points against the George Hill Rising Stars Thursday in the second day of the NY2LA Summer Jam.
Hauser, the brother of Marquette incoming freshman Sam Hauser, reached his tournament-high point total on 6-for-9 shooting, including a pair of three-pointers. The Iowa Barnstormers starter also took advantage of his trips to the charity stripe, knocking down five of six free throws.
This performance was a drastic improvement from his outing Wednesday, when he scored only six points. Hauser said regarding the change, "I came up with a lot more energy and confidence."
Hauser's offensive explosion was well-timed, as a plethora of coaches watched from the Court 5 bleachers at Homestead High School. Among the impressed group of coaches was Michigan State head coach Tom Izzo.
As a result, Izzo offered Hauser a scholarship shortly after the game, becoming the tenth coach to offer him.
Marquette, Wisconsin, Virginia, Iowa State, Northwestern, Iowa, Bradley, Northern Iowa and Nebraska have already offered the 6-foot-8 forward.
Hauser's quickness, height and ability to score from anywhere on the court makes him a match-up nightmare. At the same time, Hauser recognized areas he needs to improve as "ball-handling, being a better defender, being able to guard all positions and taking advantage of mismatches."
Hauser has already built a relationship with Marquette head coach Steve Wojciechowski, who was in attendance, and the rest of the staff.
"I've known (Marquette's coaching staff) for three or four years now," Hauser said. "I've built a really good relationship and I look forward to keep building that relationship."
Regarding the chance to play with his brother, the Stevens Point Area High School junior said, "It plays (into my decision) a little bit, but I just want to pick the best place for me."
Hauser hopes to make a decision around this time next year.
Several other Marquette targets were in action Thursday. Class of 2018 star Ayo Dosunmo made a name for himself, scoring 32 and 30 points, respectively, in his two games. Class of 2018 guard Tyler Herro had another solid performance, this time in front of Wojciechowski, Izzo, and assistants from a number of high-major programs including Virginia and Iowa State. Class of 2017 big man Theo John scored only six points and seven points in his two games. Class of 2019 big man Nobal Days was scoreless against Omaha Elite.