With the July evaluation periods underway, 2019 targets DJ Carton and Nobal Days talked to the Wire about their recruitments and attending Marquette's team camp. Both players received calls from Marquette June 15, the first day coaches could call 2019 prospects. Here's what Carton and Days had to say about their respective recruitments:
DJ Carton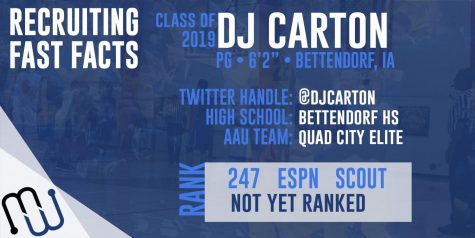 Carton, who received an offer from Marquette shortly after the team camp, is playing for Quad City Elite, an Amateur Athletic Union program based in Andalusia, Illinois.
Which schools were the first to reach out to you?
The first schools to reach out to me were Wisconsin, Iowa, UNI, IUPUI, North Dakota, Minnesota and some of the bigger programs in the Midwest.
Which schools have offered you so far?
Right now I have offers from Wisconsin, Marquette, UNI, IUPUI and North Dakota.
What has Marquette been telling you?
We went down to a team camp for Marquette and played pretty well down there and earned some interest and kept playing my game. They really like the way I play. They feel like my talent is high up there and I have good character on the court.
How often do you hear from Wojo?
I hear from him every week at least. He always gives me a heads-up, sees how I'm doing, see (sic) how the summer's going with high school basketball and things like that. He's always catching up with me, which is nice.
Nobal Days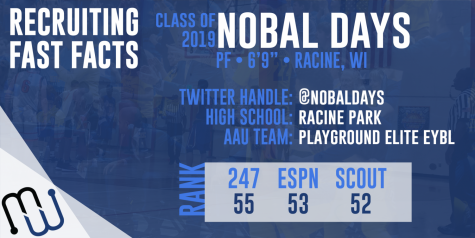 After growing up in the Butler Elite system, Days made the switch to Playground Elite this offseason in order to play in Nike's Elite Youth Basketball League circuit. Days also discussed his recruitment with the Wire last April.
How was your transition from playing on Butler Elite to Playground Elite?
It was a pretty good transition. I like the competition. I miss my old team, but it's no bad blood or anything. They knew it was a good opportunity for me and we kind of had a mutual understanding. I like the EYBL circuit. I know it's the best circuit out there. That's the main thing that I wanted to do and it's paying off.
Which coaches were the first ones to reach out to you June 15?
Man, there were a lot. Everyone called on the first day. Wisconsin, North Carolina, Mizzou, Vanderbilt, Santa Clara, Tulane and Kansas State. Mostly everybody that's recruited me called on the first day.
Did Marquette call you on the first day?
Yes, Coach (Chris) Carrawell did.
Has Carrawell taken over your recruitment since Justin Gainey joined Santa Clara's staff?
Yeah, he's taking over that spot for me.
Has the dynamic changed now that Carrawell is recruiting you instead of Gainey?
Nothing really changed because I had a good relationship with him too before. I had a good relationship with most of the coaches on that staff. It was a seamless change. It wasn't like a new pop-up coach that I've never met before. I knew him before that too.
What have your interactions with Wojo been like so far?
It's always just the same, 'Just always keep improving. Keep getting better because if you're not getting better, what are you doing?' You just have to constantly get better and improving. Something has to be evolving.
Have you gone on any visits recently?
The latest place I went on a visit to was Northwestern. We did a Marquette team camp, but those aren't really visits.
What was it like playing at the Al (McGuire Center) for Marquette team camp?
It was nice to be on campus again and just going back and playing and getting a feel for the court. It was nice. I like playing there.